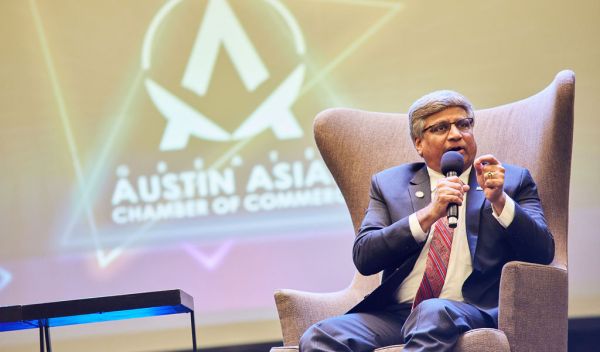 NSF Director Panchanathan attends Greater Austin Asian Chamber of Commerce 2023 Ovation Gala, receives Lifetime Achievement Award
On Nov. 4, U.S. National Science Foundation Director Sethuraman Panchanathan traveled to Austin, Texas, where he received a Lifetime Achievement Award from the Greater Austin Asian Chamber of Commerce (GAACC). The award was presented during GAACC's 2023 Ovation Gala, an event held to recognize and celebrate the accomplishments of inspirational Asian leaders and their contributions to society and communities.  
After delivering the Gala's keynote speech, Panchanathan participated in a fireside chat, where he discussed a range of topics, including his journey to becoming the head of NSF, the importance of inclusivity in advancing science and technology, the Asian American and Pacific Islanders community's role in STEM, and the ways in which NSF is enhancing equity through its strategies and investments. 
"I am humbled and honored to receive this Award from the Greater Austin Asian Chamber of Commerce — an ally and advocate of the Asian American Pacific Islander community at large," said Panchanthan. "At NSF and across the nation, this community is an essential part of our workforce. The breadth of unique perspectives and cultures in this country, including this community helps NSF fuel scientific discovery and technological innovation in the U.S. and abroad." 
Born and raised in Chennai, India, Panchanathan has a distinguished career in science, technology, engineering, and education leadership that spans over three decades. 
In 2020, he was unanimously confirmed by the Senate as the 15th director of NSF. Under his leadership, NSF established the Technology, Innovation and Partnerships Directorate — the agency's first new directorate in more than 30 years. As director, Panchanathan maintains leadership roles on several key interagency councils and committees, including as co-chair of the National Advisory Council on Innovation and Entrepreneurship and as a member of the White House CHIPS Implementation Steering Council and Gender Policy Council. He is also chair of the Interagency Arctic Research Policy Committee and co-vice chair of the Council for Inclusive Innovation.  
"Illuminating pathways that harness the breadth of this nation's talent and growing innovation ecosystems that promote equity and teaming is how the U.S. will remain at the forefront of science, technology and innovation for decades to come." 
- Sethuraman Panchanathan
Prior to joining NSF, Panchanathan was the first American of Indian origin appointed by the president to the National Science Board, where he served as chair of the Committee on Strategy and as a member of the External Engagement and National Science and Engineering Policy committees. He also served as the executive vice president of the Arizona State University Knowledge Enterprise. Under his leadership, ASU increased its research performance fivefold, earning recognition as the fastest growing and most innovative research university in the U.S. 
Panchanathan's scientific contributions have advanced the areas of human-centered multimedia computing; haptic user interfaces and ubiquitous computing technologies for enhancing the quality of life for people with disabilities; machine learning for multimedia applications; and media processor designs. He has published close to 500 articles in refereed journals and conference proceedings, and has mentored more than 150 graduate students, postdocs, research engineers and research scientists, many who now occupy leading positions in academia and industry.  
Reflecting on his career, Panchanathan expressed gratitude to his mentors, colleagues, students, friends, and family, who supported and inspired him over the years. When pressed on the ingredients of success, Panchanathan said, "Teamwork and diversity — diversity in every form, diversity of thought, experiences, backgrounds and ethnicities — are critical to driving scalable impacts and progress. When you bring together diverse points of view you have more creative ideas and solutions, which is why 'accessibility' and 'inclusivity' are integral to NSF's three-pillared vision." 
An initiative powering these principles, he said, is NSF's Growing Research Access for Nationally Transformative Equity and Diversity program. "GRANTED builds capacity at emerging and developing research institutions, engaging millions of people more effectively across the country who lack the resources or support needed to enter and thrive in our nation's STEM enterprise."
He also cited NSF's Eddie Bernice Johnson Inclusion across the Nation of Communities of Learners of Underrepresented Discoverers in Engineering and Science (INCLUDES) Initiative and the NSF Future of Semiconductors (FuSe) program — both catalyzed by the "CHIPS and Science Act of 2022" — as driving forces enhancing equity across STEM.
NSF's INCLUDES Initiative is designed to increase diversity throughout STEM by supporting a host of alliances, a national network, pilot programs and other activities aimed at implementing, sharing, refining, and expanding successful efforts at broadening participation.
FuSe, he said, is a $50 million investment fueling public-private partnerships between NSF, Ericsson, IBM, Intel, and Samsung. The partnerships support a coalition of scientists and engineers who are accelerating the development of the next generation of semiconductor technologies while building a robust and diverse U.S.-based pool of skilled workers. 
"Illuminating pathways that harness the breadth of this nation's talent and growing innovation ecosystems that promote equity and teaming is how the U.S. will remain at the forefront of science, technology and innovation for decades to come," said Panchanathan. "Let us recommit ourselves to ensuring that we are fostering and creating opportunities that are available everywhere, for everyone. Only then can we truly unleash our country's true potential to ensure a brighter, better future for all."