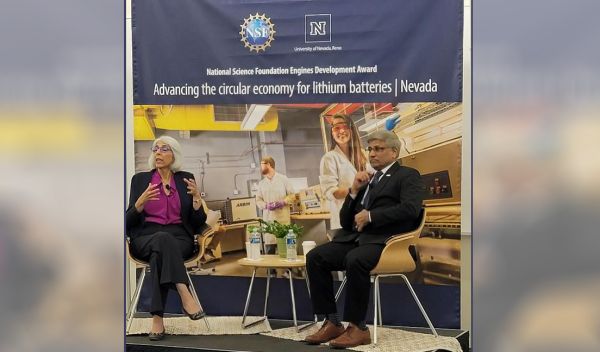 NSF Director Panchanathan meets with OSTP Director Prabhakar at the University of Nevada, Reno
On August 11, U.S. National Science Foundation Director Sethuraman Panchanathan joined White House Office of Science and Technology Policy Director Arati Prabhakar at the University Nevada, Reno, for a roundtable discussion and to highlight an approximately $1 million NSF Regional Innovation Engines (NSF Engines) Development Award supporting a UNR-led project. During the visit, Director Panchanathan met researchers, students, heads of science and engineering institutions, business leaders and members of the press, and toured the university's Materials and Electrochemical Research Lab.
Assembled with Director Prabhakar, university leadership and project partners for the roundtable, Director Panchanathan began by celebrating the one-year anniversary of the signing of the "CHIPS and Science Act of 2022." He lauded the act as a once-in-a-generation legislation which established a bold vision for accelerating U.S. leadership in innovation. He also praised the act's authorization of new, critical investments in NSF's mission and its codification of NSF's first new directorate in over 30 years — the Directorate for Technology, Innovation and Partnerships (TIP).
Underscoring his point, Panchanathan cited numerous examples of NSF's progress since the act's signing. "NSF Regional Engines, a flagship of TIP's, made its first class of development awards to 44 teams spanning 46 U.S. states and territories in May of this year. These awards are laying the foundation for innovation ecosystems all across America, in communities of all sizes, driving industry and job growth, to create opportunities for everyone, everywhere."
One of the 44 teams selected for an NSF Engines Development Award is led by UNR (host and moderator of the roundtable event), the Nevada Governor's Office of Economic Development and Truckee Meadows Community College, in partnership with dozens of local and regional companies. The team aims to leverage statewide resources and talent to grow a circular economy in Nevada around the life cycle of lithium batteries, with the goal of becoming competitive for a full NSF Engines award worth up to $160 million.
Panchanathan said the team is well positioned to carry out its important project and attain its goal. "Boosting the domestic supply chain of advanced lithium batteries, at the core of technologies like electric vehicles and solar panels, is critical to accelerating the U.S. transition away from fossil fuels, toward a clean energy future," he remarked.
Over the course of the roundtable, Panchanathan and Prabhakar participated in lively and insightful discussions on a variety of topics, including U.S. leadership in science and technology, discovery, and innovation; the significance of translational research with a lab-to-market concept; and broadening participation to inspire the "missing millions." The discussions illuminated NSF's central role in the nation's STEM enterprise as well as the power of its investments to address societal challenges and strengthen the nation's security and global competitiveness.
Earlier that day, Panchanathan toured the university's Materials and Electrochemical Research Lab and its state-of-the-art facilities. The testing lab connects academia with industries to identify and select the best materials for their products. During the tour, he met many NSF-funded researchers, including NSF scholars, who are gaining hands-on experience in key technology fields, preparing them for meaningful and lucrative careers in STEM.