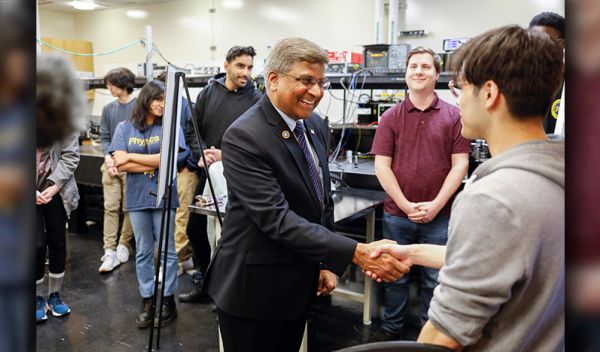 NSF director underscores 'CHIPS & Science Act' opportunities in visit to Washington state
U.S. National Science Foundation Director Sethuraman Panchanathan spoke at a press conference at the University of Washington in Seattle. Director Panchanathan was joined by Rep. Suzan DelBene (D-WA) and leaders from Washington state higher education institutions to discuss the "CHIPS & Science Act," next generation technologies and workforce training and development. Director Panchanathan outlined his vision for the NSF Directorate for Technology, Innovation and Partnerships, specifically focusing on chip development and manufacturing and artificial intelligence.
Director Panchanathan toured the QuantumX lab, where cutting-edge instrumentation supports barrier-breaking research and will train the next generation of quantum engineers.
After the tour, Director Panchanathan spoke at the "CHIPS and Science Diversity in STEM Forum" moderated by Dr. Nancy Allbritton, the University of Washington dean of engineering. The event focused on how Washington state businesses, universities and industry will invest funding from the "CHIPS & Science Act" in technology research, innovation, manufacturing and workforce development. The event also provided a welcome opportunity to field suggestions from students on how to increase diversity and inclusion in STEM fields.
Director Panchanathan next attended the Spokane Technology Leadership Summit, where he delivered remarks about opportunities the "CHIPS & Science Act" will create in the Spokane region.
The "CHIPS & Science Act" authorized funding that triples NSF's annual STEM education budget over five years and doubles overall NSF funding for research and education. If that funding is appropriated, it will have a profound impact on the future of innovative science and engineering research that will shape next generation technology, the STEM workforce and jobs of the future.