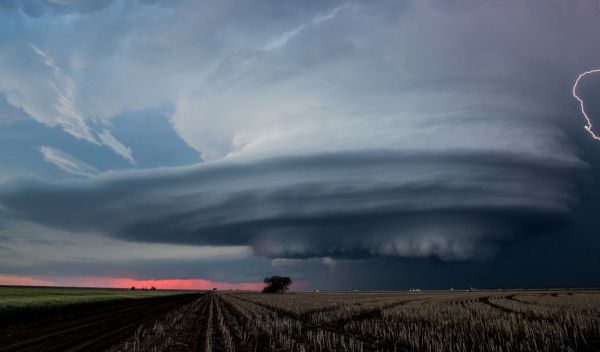 NSF-NOAA partner to promote the creation of centers for modeling catastrophic impacts and risk assessment of climate change
Whether you own a home, a business or other assets, insurance is an important part of any budgetary calculation involving protection of property. While the insurance and reinsurance sector are at the forefront of translating weather and climate information into financial and societal risks, the industry's focus has been on use of catastrophe models rather than incorporating climate change data and projections that can help characterize future conditions. 
A new agreement between the U.S. National Science Foundation and the National Oceanic and Atmospheric Administration will support the creation of an Industry-University Cooperative Research Center (IUCRC) focused on modeling catastrophic impacts and risk assessment of climate change to help better support the needs of the insurance sector. 
"This partnership between NSF and NOAA focuses on industry and academia jointly solving some of the most difficult problems we face. Predicting the risks and damages of climate-related perils such as wildfires, floods, tornados and hurricanes in a world of radically changing and intensifying catastrophic weather is essential. Using the NSF Industry-University Cooperative Research Center model, this powerful vehicle will channel basic and use-inspired research for the benefit of the U.S. economy," said NSF Assistant Director for Geosciences Alexandra Isern. 
NSF and NOAA share a mission to understand and predict changes in climate, weather and the ocean and coasts, including the role of human behavior in affecting and responding to these changes. The announcement of the IUCRC comes at the conclusion of a series of webinars co-hosted by NSF and NOAA that have focused on identifying research and workforce capacity needs in this space for the private and public sectors. 
"Traditionally, catastrophe modeling looks at past events while climate modeling looks to the future," said NOAA Chief Scientist Sarah Kapnick. "We need a new and improved way of combining these approaches in order to address the challenges that are being accelerated by our rapidly changing climate. Combining climate and catastrophe models with the goal of producing better decision-making tools is a game changer for the insurance, reinsurance and mortgage industries. Additionally, we need to not only develop the science and tools in this space, but also the workforce capacity to put knowledge into action." 
IUCRCs are consortia developed by NSF where university faculty and students work with members of an industry to accelerate the impact of research focused on the collective needs of a sector of the U.S. economy. IUCRCs connect corporate partners, government agencies and academia through mutual interest, creating spaces that build partnerships and usher in science and technology breakthroughs in their respective fields. Consortia will have the opportunity to compete for the opportunity to lead this program and a selection will be made later in the year. The new research center will benefit from interactions with and the experiences of the current NSF and NOAA climate science centers, including NOAA labs and cooperative Institutes. 
The new IUCRC program will be co-managed by NSF and NOAA. The program is another example highlighting the strong relationship between the two agencies, who share a long and productive history of working together for societal benefit. The program will forge new relationships and foster existing ones, promote workforce development, grow industry and tackle societal challenges. Specific program objectives include understanding and predicting changes in climate, weather and the ocean and coasts, including the role of human behavior in affecting and responding to these changes; communicating knowledge and information; and developing a skilled domestic workforce capable of addressing science and technology challenges in these areas. 
More information about the Dear Colleague Letter can be found on nsf.gov.