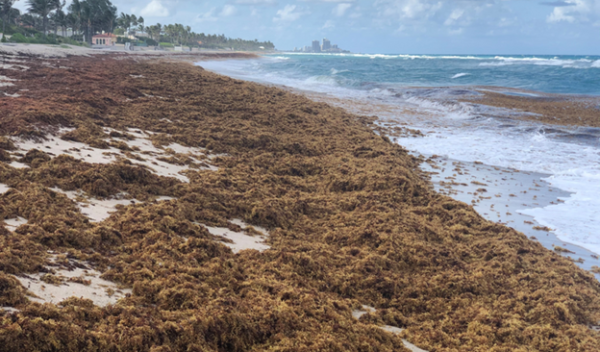 Perfect 'pathogen' storm: Vibrio bacteria, Sargassum and plastic marine debris
Genomics study in Caribbean, Sargasso Seas represents first vibrio assembled from plastic debris
A new U.S. National Science Foundation-supported study has uncovered how the interplay between Sargassum spp., plastic marine debris andVibrio bacteria creates the perfect "pathogen" storm, with implications for marine life and public health.
Vibrio bacteria are found in waters around the world and are the dominant marine cause of death in humans. For example, Vibrio vulnificus, sometimes referred to as flesh-eating bacteria, can cause life-threatening illness from seafood consumption as well as disease and death from open wound infections.
Since 2011, Sargassum, free-living populations of brown macroalgae, have been rapidly expanding in the Sargasso Sea and other parts of the open ocean such as the Great Atlantic Sargassum Belt, including unprecedented seaweed accumulations on beaches. Plastic marine debris, first found in the surface waters of the Sargasso Sea, has become a worldwide concern.
Currently, little is known about the ecological relationship of Vibrio with Sargassum. Genomic and metagenomic evidence has been lacking as to whetherVibrio colonizing plastic marine debris and Sargassum could potentially infect humans. As summer kicks into high gear and efforts are underway to find innovative solutions to repurpose rafts of Sargassum, could these substrates pose a threat to public health?
Researchers at Florida Atlantic University and their collaborators sequenced the genomes of Vibrio cultivars isolated from eel larvae, plastic marine debris, Sargassum and seawater samples collected from the Caribbean and Sargasso seas. The scientists discovered thatVibrio pathogens have a unique ability to "stick" to microplastics, and that these microbes might be adapting to plastic. The results are published in the journal Water Research.
"Plastic is a new element that's been introduced into marine environments and has only been around for about 50 years," said Tracy Mincer, corresponding lead author and a biologist at FAU. "Our work shows that theseVibrio are extremely aggressive and can seek out and stick to plastic within minutes. We also found that there are attachment factors the microbes use to stick to plastics."