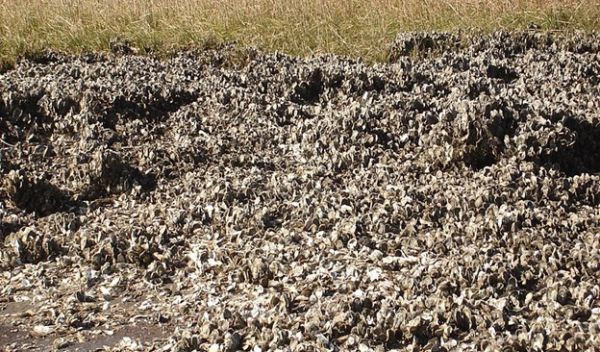 Research discovery a pearl of hope for imperiled oyster reefs
Restored oyster reefs can match natural oyster populations
The future of oyster reefs, which have experienced an 85% loss worldwide over the past two centuries, doesn't have to be bleak, according to researchers at the University of Virginia and other institutions. The scientists published their findings in Conservation Letters.
The study was conducted at the U.S. National Science Foundation-supported Virginia Coast Reserve Long-Term Ecological Research site. NSF funds LTER sites across the country and around the world to study how ecosystems change over years to decades. "This study exemplifies how understanding ecology often translates into improvements in our lives," said Francisco (Paco) Moore, a program director in NSF's Division of Environmental Biology.
The 15-year study demonstrates that restored oyster reefs can match natural oyster populations in about six years and sustain the population thereafter. "Our research shows that restoration can catalyze rapid recovery of an imperiled coastal habitat and help reverse decades of degradation," said the study's lead author, Rachel Smith.
Oyster reefs are aggregate coastal formations built by the hinged-shell mollusks. The reefs form along sand bars and muddy tidal flats, molding to contours at the water's edge and serving as protection against erosion. As sea levels rise, so do reefs – if they are healthy.
Due to over-harvesting and oyster diseases, however, the reefs have been in decline. Many wild oyster populations are now considered "functionally extinct" because of severe habitat losses.
At 16 sites in coastal Virginia, composed of 70 reefs, the researchers studied the oyster Crassostrea virginica, also known as the Eastern or Atlantic oyster.
Important to the seafood economy, it is the common species on the Eastern Seaboard and can be found in Canada and South America as well – though less so today. For example, European colonization and subsequent commercial appetites reduced the oysters to about 1% of their estimated historical abundance along the Chesapeake Bay and its tributaries.
Where the reefs were spared or have recovered, waters are clearer and cleaner. These filter feeders, like other oysters and bivalve mollusks, take in surrounding water, consuming plankton and silt and debris, then eject the water back out, free of impurities. Scientists note the added value of oysters as a form of environmental remediation, often mitigating the impact of fertilizer seepage or accidental spills. Oyster reefs also provide habitat for crabs and fish, supporting coastal fisheries.
"Although preventing habitat loss should be the first priority, our findings show that restored oyster reefs can catch up to natural oyster reefs within a decade," said study co-author Max Castorani.