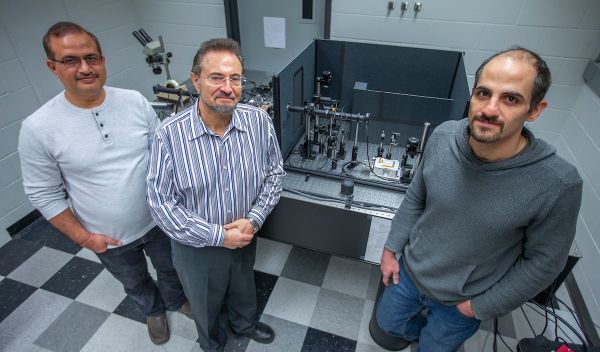 Researchers create nanoscale sensors to better see how high pressure affects materials
Understanding pressure effects could lead to variety of material applications
Iowa State University researchers have developed new nanoscale technology to image and measure more of the stresses and strains on materials under high pressures.
The researchers reported the results of the NSF-supported work in the journal Science, saying that understanding stresses and strains matters because, "Pressure alters the physical, chemical and electronic properties of matter."
"These new technologies allow researchers to image, measure and calculate stresses -- a much more comprehensive and realistic measure of the effects of high pressure on materials," said Judith Yang, a program director in NSF's Division of Materials Research. "The main objective of these technologies is to produce high-pressure phases and nanostructures that possess unique physical properties important for engineering applications."
Understanding the changes could lead to new materials or new phases of matter for use in all kinds of technologies and applications, said Valery Levitas, a paper co-author.
Levitas, whose lab specializes in experimental testing and computational modeling of high-pressure sciences, said that the new sensing technology could also advance high-pressure studies in chemistry, mechanics, geology and planetary science.
NSF Graduate Research Fellow Fiona Doyle at the University of California, Berkeley participated in the research.
More on this research can be found in a press release on the Iowa State website.