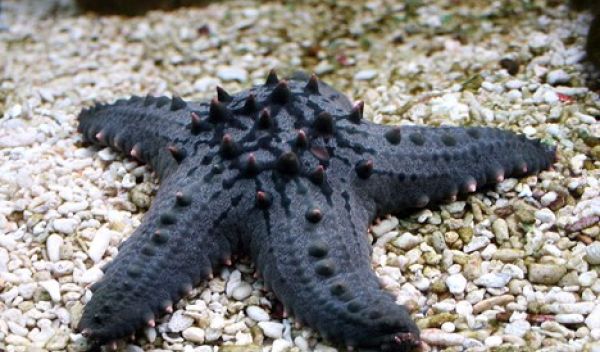 Researchers discover unexpected structural features in knobby starfish skeletons
The biomineralized remains are lightweight and damage resistant
A team of U.S. National Science Foundation grantee researchers discovered a dual-scale, single-crystalline microlattice diamond-like structure in the biomineralized skeleton of the knobby starfish, Protoreaster nodosus.
The damage-resistant structure leaves behind tough and durable, lightweight remains. It's the first reported dual-scale, single-crystalline micro lattice structure in any synthetic or biological material. The team published the findings in Science. Themicrostructure has implications from paleontology to manufacturing, the researchers said.
Beneath the soft tissue covering the pointy skeletal protrusions, the scientists found calcareous millimeter-sized ossicles with porous, lattice-like structures. The mechanical design principles of the biological microlattice structure could be a natural model for developing 3D lattice materials and damage-tolerant design strategies, and provide insights into biomineralization.
"This is a beautiful example of the fundamental study of bioinspired ceramic materials bringing forth the importance of hierarchical structural and crystallographic design in single crystalline materials for improved mechanical performance," said Abraham Joy, a program director in NSF's Division of Materials Research.
The discovery will be important in fields from structural design to invertebrate zoology as scientists expose and examine the formation and evolution of ordered lattice structures. Understanding the mechanisms of such complex structures will lead to a broader knowledge of biology-inspired construction of complex synthetic lattices.