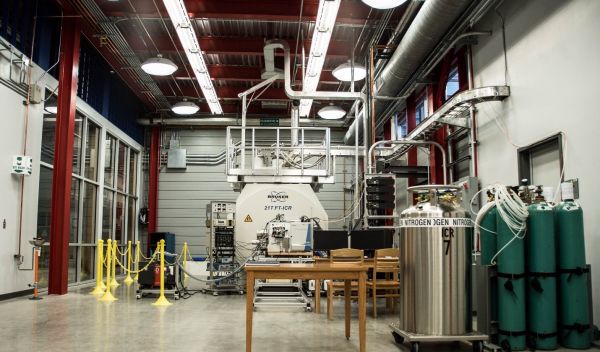 Scientists develop new, accurate method to detect persistent chemicals
Data from powerful mass spectrometer survey and document omnipresent compounds
U.S. National Science Foundation researchers have developed a more accurate method to discover and document pervasive "forever" chemicals often referred to as PFAS. Studies have documented PFAS in the blood of people and other animals across the globe.
Thousands of forever chemicals have been identified, but there could be other potentially hazardous compounds lurking that haven't yet been detected. The volume of chemicals and scope of their impact will be brought into clearer focus with the data obtained from this initiative, scientists say.
PFAS, short for per- and polyfluoroalkyl substances, are an omnipresent group of thousands of manufactured chemicals, some harmful to people and the environment. The pervasive pollutants can be found in everything from food packaging and cookware to cleaning products, textiles and drinking water.
The Colorado State University-based research team is working to classify and catalog the myriad chemical compounds in the PFAS cohort, data that could be critical to finding solutions to health and environmental damage the chemicals cause.
"We're not only attempting to resolve the chemical complexity of PFAS, we're also opening doors for researchers who want to look at treatment, environmental fate and transport, and toxicology," said Jens Blotevogel, a co-author of the study published in Environmental Science & Technology. "This is giving people the strongest possible magnifying glass to unravel these processes."
The research team will conduct the survey and chemical analysis using the 21 tesla Fourier-transform ion cyclotron resonance mass spectrometer, or 21T FT-ICR MS, at the NSF-funded National High Magnetic Field Lab.
"The first step is understanding what's there, and then you can figure out the environmental impacts and try to remediate them, but you've got to know the chemistry," said co-author Amy McKenna, an environmental analytical chemist.
"It's powerful enough to be able to see all of these different PFAS molecules, but it's also powerful enough to pick them out of environmental samples that contain many thousands of natural compounds," said Robert Young, co-author of the study.
The team plans to continue investigating why some compounds may go from harmless to harmful when they degrade or are mixed with other compounds. Understanding what the compounds are and how they change will help scientists figure out how to minimize damage from dangerous compounds.
"The long-term goal is to help identify these things so other people know what to look for," Young said. "As soon as we know what to look for, we can focus on understanding the health and environmental impacts and prioritize treatment or regulatory solutions."