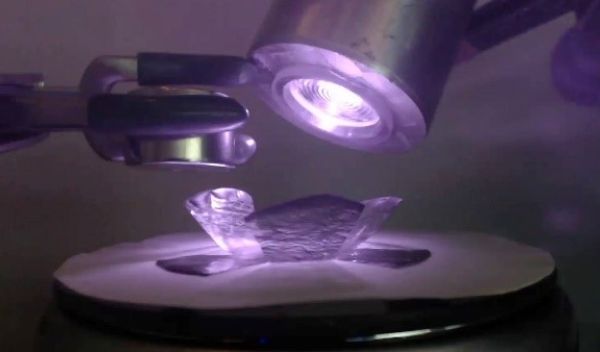 Technique uses magnets, light to control and reconfigure soft robots
Reconfigurability developed for soft robotics may be useful in aerospace, biomedical applications
National Science Foundation- (NSF) funded researchers from North Carolina State and Elon Universities have developed a technique that allows them to remotely control the movement of soft robots, lock them into position for as long as needed and later reconfigure the robots into new shapes. The technique relies on light and magnetic fields.
"By engineering the properties of the material, we can control the soft robot's movement remotely; we can get it to hold a given shape; we can then return the robot to its original shape or further modify its movement; and we can do this repeatedly. All of those things are valuable, in terms of this technology's utility in biomedical or aerospace applications," says Joe Tracy, a professor of materials science and engineering at NC State and corresponding author of a paper on the work.
The paper appears in the journal Science Advances. An NC State press release provides additional details.
In experimental testing, the researchers demonstrated that the soft robots could be used to form "grabbers" for lifting and transporting objects. The soft robots could also be used as cantilevers or folded into "flowers" with petals that bend in different directions.
"We are not limited to binary configurations, such as a grabber being either open or closed," says Jessica Liu, first author of the paper and a Ph.D. student at NC State. "We can control the light to ensure that a robot will hold its shape at any point."
Two NSF directorates support the research: Engineering (1542015 and 1662641) and Math and Physical Sciences (MPS) (1121107). MPS contributed $14 million to the Triangle Center of Excellence for Materials Research and Innovation, which focuses on the study and development of soft matter components to be used in programmable assembly that results from functional and hybrid soft materials.