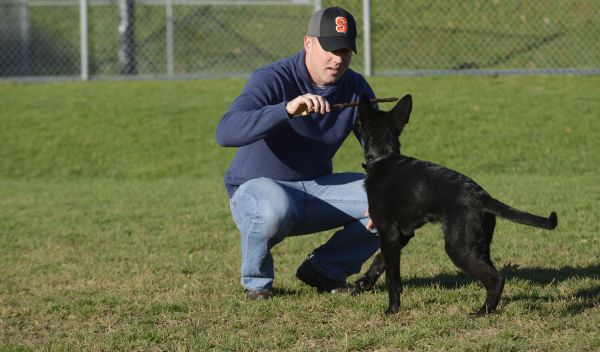 Trauma research by veterans, for veterans
Undergraduates gain a better understanding of trauma, and what it takes to be a scientist, through research program
Fresh out of military service, still adjusting to civilian life, Charles Preuss decided to study trauma.
"I just got out of the Army via medical discharge, because of [post-traumatic stress disorder] through my time in Afghanistan," he says. "I still wasn't coming to terms with myself." And since for Preuss, "the best way to fix a problem is to research it," he applied--and was accepted--into the Trauma Research Education for Undergraduates (REU) Program, housed at Syracuse University.
The National Science Foundation (NSF)-funded program "helped me tremendously," says the Syracuse sophomore. Preuss says it helped him adapt to life outside the military and influenced his academic path. "It opened up a whole new scientific field, a new frame of view."
A joint venture of Syracuse, the State University of New York (SUNY) at Oswego and SUNY Upstate Medical University, the Trauma REU is offered to 10 students each year. It starts with an intense, immersive summer program--four weeks of trauma coursework while crafting a research project--and continues through the year as students conduct research under faculty supervision. Students are a mix of veterans and non-veterans.
Now in its third year, the highly interdisciplinary program--faculty include geneticists, psychologists and social workers--has contributed to research on stress reduction tools used by trauma patients. The current cohort of students is collecting data on Dogs2Vets, a pet therapy program run by a New York-based veteran support nonprofit.
NSF's REU program supports active, engaged participation by undergraduate students in research. There are REU sites across America, in all fields of science and engineering.
"This REU site is unique in that it addresses a problem that is well-known but rarely addressed by the undergraduate research community," says Fahmida Chowdhury, the REU site program director in NSF's Social, Behavioral and Economic Sciences Directorate, which funds this award. "Taking this kind of topic and turning it into an undergraduate research experience--while helping veterans reintegrate into college life--is quite impressive."
Karen Wolford, co-principal investigator on the award and a professor of psychology at SUNY Oswego, calls the program a "real success." Many Trauma REU alumni have presented their research and entered graduate school, and some are employed as researchers on other NSF grants.
Wolford herself is now working to adapt the stress reduction tool researched by the first cohort--a course called Mindfulness Based Stress Reduction, used nationwide for trauma survivors--into a mobile app. Wolford and former REU student Arthur Delsing recently received a NSF I-Corps award to study whether there's a commercial market for the product.
The Trauma REU "has taken me down a very interesting road," says Delsing. It solidified his desire to study psychology, introduced him to the field of human-computer interaction (Delsing is finishing his Master's in the field now), and propelled the U.S. Navy veteran on a path to a doctorate.
Veterans participating in the Trauma REU offer a unique perspective, says Principal Investigator Brooks Gump, the Falk Family Endowed Professor of Public Health at Syracuse. Veterans tend to be very different than your average undergrad. They're older, frequently married or divorced, and often feel out of place in a campus environment.
Working closely with non-veteran students is almost like a cultural lesson for veterans, helping ease re-entry into civilian life, says Stephen Glatt, a Trauma REU faculty member and director of the Psychiatric Genetic Epidemiology and Neurobiology Lab at SUNY Upstate Medical Center.
The non-veteran students, meanwhile, learn something about what it takes to be an adult--the attention to detail, the drive--from their military counterparts, Glatt says.
Veterans also bring their real-life experience as members of military units to the study of trauma.
"If you don't know the study population--what are the real issues, what makes sense to study--your research won't work," says Gump. In modern trauma research, veterans are often that study population. And so the REU students can suggest things like what questions researchers should or shouldn't ask, or how to reach out to veteran populations to get them to participate in studies.
"It's a matter of trust," says Wolford. "And veterans tend to trust other vets."
Training veterans as trauma researchers, however, is not without its challenges. Learning the science of trauma can often reactivate that experience--stir up stress, anxiety and tension--in the students themselves. So much so that the Trauma REU now has a social worker on call to easily and discreetly help veteran undergraduates work through their own trauma, cope with the triggers of everyday life.
"I had a couple times where I had to leave the room," during REU classes, Preuss says. Yet he found that the training shed light on his own experiences. "It flipped my world upside down as far as understanding why I'm going through stuff."
And it helped the business major reconsider how to blend the science he learned--lessons on research, collecting data, conducting experiments--to achieve a career goal: Improving the quality of life for trauma patients.