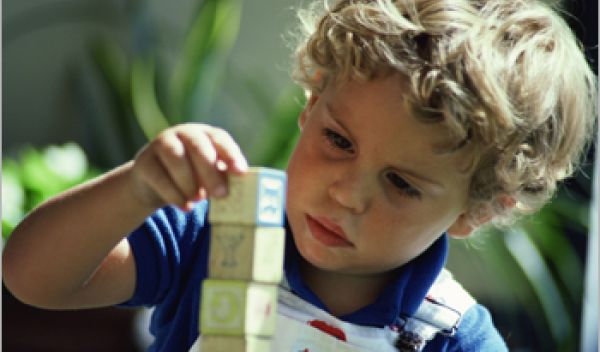 Understanding the Building Blocks of Language and Thought
Language shapes how infants learn spatial concepts
Plastic nesting cups, blocks and Legos™ are more than mere playthings for babies--they are powerful tools in developing an understanding of spatial concepts, according to Marianella Casasola, an associate professor of human development at Cornell University who has received National Science Foundation (NSF) support early in her research career. She is documenting the connections between language input and human thought processes by studying the building blocks of language acquisition in infants. Her research shows that infants comprehend spatial relationships such as "in" and "on" through language input from caregivers and the babies' own play behaviors.
"Some argue that spatial concepts shape language," says Casasola, who received an NSF Faculty Early Career Development program (CAREER) award and the highly selective Presidential Early Career Award for Science and Engineering (PECASE). "But our research suggests that it also may be the other way around- -our specific language can actually help us form particular spatial concepts."
Casasola was one of 20 NSF-supported young scientists and engineers to be honored by the White House with the presidential award in 2005. PECASE is the highest honor bestowed by the U.S. government on scientists and engineers in the early stages of promising research and education careers. The Cornell researcher's studies with babies of English-speaking and Korean-speaking parents have yielded interesting results.
"Babies really enjoy putting one object inside another," says Casasola, explaining that babies between 6 and 10 months of age understand very little language, but are beginning to explore the concepts of containment ("in") and support ("on") with plastic nesting cups and blocks. In the Korean language, the concept is slightly different from English. Instead of "in" and "on," these babies learn the similar (but not quite parallel) concept of "tight-fit," or "kkita," by putting a peg into a hole or by snapping together Duplos™ (extra large Legos™ for toddlers). By 18 months, English-learning and Korean-learning babies diverge in the way they organize their concepts of containment and support based on how their language describes it.
"Between 10 and 18 months of age, English-learning babies are not yet able to visually recognize the commonality between the different examples of support," says Casasola. "But when an adult says, 'Look, it goes on. Wow,' the presence of the specific word aids understanding and attention for this spatial relation."
"Taking that knowledge a step further, we wanted to know if English-speaking toddlers could understand the Korean concept of 'tight-fit.' Could we teach them to think like Korean toddlers?" asks Casasola. She demonstrated examples of "tight-fit"--a cork in a bottle, Duplos™ fitting tightly together, a peg in a block--to 20-month-old English-speaking toddlers. When she then showed them videos of new examples of "tight-fit," their responses showed that they could, in fact, grasp the new concept.
In the spring of 2007, Casasola will begin a longitudinal study to examine the differences between Spanish-learning and English-learning babies in New York City. She and her students will follow the progress of infants and their families, checking in on them every three months starting when the babies are 10 months of age and continuing until they reach 22 months. While English-learning babies are exploring the separate concepts of "in" and "on," Spanish-learning babies are learning the word "en," which can mean either "in" or "on." 
This study is "more ecologically valid" says Casasola, in that she and her students will be testing the babies' understanding of spatial concepts in their natural home environment, rather than in a controlled laboratory setting. "It's a very open study. We are going to let the parents pick which toys to play with first so we can explore the differences in parental choices across environments. For example, do Korean mothers pick toys that can be placed in a 'tight-fit' first?" She notes that English-speaking parents seem to place more focus on showing the concept of "on" when interacting with their babies by stacking towers and building blocks, yet the parents talk about "in" most often.
Casasola, who also teaches courses in research methodology at Cornell, is using the study to train her graduate and undergraduate students in a variety of methodologies that will help them become strong, independent researchers. While she expects that findings from the longitudinal study will be extremely rich in insights, the in-home study format presents new challenges to student researchers as they work to gather data in a less controlled environment. She hopes that this new experience will foster a sense of adventure in her students, as well as shed new light on language and thought processes.
"While the interaction between thought and language in early development is complex, babies remain flexible in their learning," Casasola concludes. "Babies as young as 18 months old know when they are hearing a different language. They can adapt to new language patterns, apply a different type of word and organize concepts according to different bases. This ability has important implications for learning a second language."
--S2N Media