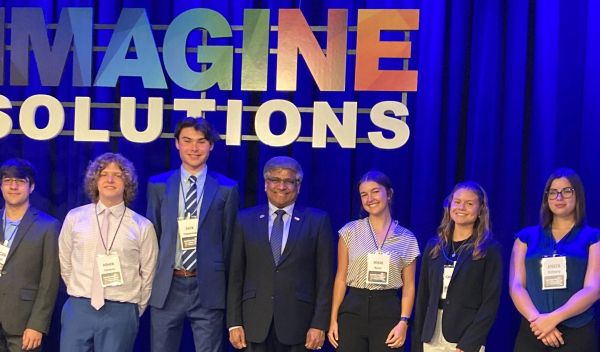 This week with NSF Director Panchanathan
For over seven decades, NSF has made investments in researchers, infrastructure and programs that have expanded the frontiers of knowledge and technology, accelerating discoveries and innovations powered by curiosity-driven research and use-inspired, solutions-oriented work — or as NSF Director Sethuraman Panchanathan calls it, "The DNA of NSF."
At two different conferences this past week, Director Panchanathan shared more on NSF's continuous efforts to enhance the nation's innovation ecosystem. Last Saturday, March 4, at a second appearance at the 2023 AAAS Annual Meeting, the director joined "The Innovation Ecosystem: Gee-whiz to Jobs" plenary panel alongside The United States Patent and Trademark Office Director Kathi Vidal, 3M Chief Science Advocate and Scientist Jayshree Seth, and The Lemelson Foundation Executive Director Rob Schneider, sharing more on how the crosscutting TIP Directorate is taking new approaches to strengthen and expand NSF's research and innovation programs. Two days later, at the Imagine Solutions Conference in Naples, FL, the director spoke on how NSF's investments in programs such as GRANTED and ExLENT are equipping the workforce — at all educational and career stages — with the skills they need to adapt now and into the future.

At the core of NSF's approach to the future is a commitment to building strong partnerships across government, industry and academia to create robust innovation ecosystems across the country.