Image: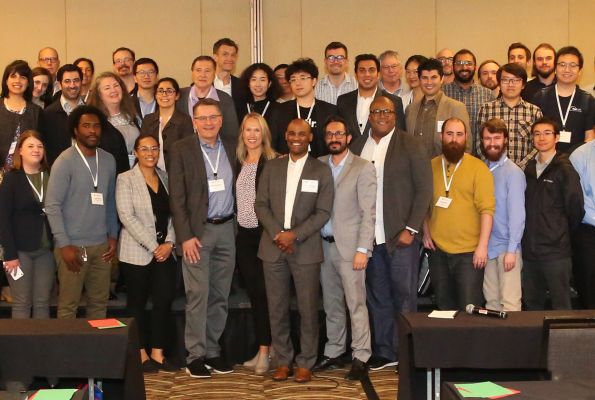 10 years of I-Corps: NSF entrepreneurship training program impacts the economy and shapes careers
NSF Director Sethuraman Panchanathan shares his personal experience as an I-Corps participant.
In summer 2012, a team from Arizona State University embarked on a unique training program to learn if their advances in haptics technology – a technology that simulates the senses of touch and motion - could become the basis for a new company. This training program was NSF Innovation Corps, and the team was anchored by Dr. Sethuraman Panchanathan, who would later become the director of the U.S. National Science Foundation (NSF).
Since the NSF Innovation Corps (I-Corps™) program launched in 2011 as a pathway to translation for NSF's basic research investments, more than 5,700 people have participated in the training that teaches NSF-funded researchers the entrepreneurial skills necessary to identify market opportunities for the discoveries that emerge from their research. More than 1,000 startups have been launched because of I-Corps, and these startups have cumulatively raised $760+ million in subsequent funding. NSF also partners with five other federal agencies to implement I-Corps training. Learn more about the impact I-Corps by reading the I-Corps 2019-2020 biennial report (2019-2020).
Through I-Corps, NSF addresses four urgent national needs: training an entrepreneurial workforce, translating technologies, enabling economic impact, and nurturing an innovation ecosystem. Over the course of seven weeks, seasoned entrepreneurs teach I-Corps participants how to test the market through customer discovery and how to create a business strategy. They participate as a team of three (technical lead, entrepreneurial lead and mentor) with other teams in an I-Corps cohort. To qualify, participants must have been funded by NSF as a faculty member, student or researcher in the preceding five years, or have participated in a regional I-Corps program. Some NSF-funded small businesses also participate in I-Corps. The program is open to all disciplines.
As an I-Corps participant in summer 2012, NSF Director Sethuraman Panchanathan found out firsthand how the program teaches researchers to adopt an entrepreneurial mindset.
Kelly Monterroso, NSF communications specialist, recently spoke with Dr. Panchanathan about his participation in the I-Corps program and the impact it had on his career  Here's an excerpt from the conversation:
What inspired you to participate in I-Corps?
Dr. Panchanathan: I remember when the I-Corps program was announced and learning about the first one or two cohorts that went through the program. My colleagues and I said," Hey, we have a business idea that was generated through an NSF-funded project, why not go and see if the I-Corps program can give us more skills and better prepare us for launching this company to be a successful venture?" (Read the NSF award information 1242446)
What was your NSF-funded fundamental research, and what was the technology you wanted to create?
The fundamental research idea was centered around the use of touch technology [haptics, haptic-based interfaces]. It was a combination of computer vision and human-centered multimedia computing. We were working on how haptics could help individuals who were visually impaired or people who needed things like stroke rehabilitation and other types of rehab.  
We know that sensing through touch is something that people who are visually impaired are very adapted to. So, in addition to audio-based feedback, we thought, 'Why not explore touch information, haptics?' This was the research that we used to apply for I-Corps. We called our company RehabDev.
We stuck with it for a couple of years, but ultimately decided that it wasn't the right thing for us at the time. Instead, we folded everything back into the academic realm and focused on advancing prototypes for helping individuals who were blind and visually impaired. That was one stream, and the other was students taking research in haptics and running with it. One of the undergraduate students who had the time to do this, went ahead and built a different company.
What are some of the skills you learned in I-Corps?
One of the powerful things in the I-Corps Kick-Off is this thing called "customer discovery." It means that you actually go and find out from your customers: Is this something that you want? And if it is, what are the best ways to deliver that product or service to them? That helps validate your concept, and subsequently, fine tune your prototype, product or whatever it might be. We learned a lot from that process and further fine-tuned our thinking over the seven weeks and even afterward. In addition, we learned the Lean LaunchPad curriculum by Steve Blank, which taught us to critically analyze whether this idea, at this time, is the right thing to do and what it takes for a company to be successful.
They always say the purpose of I-Corps is not only to develop the entrepreneurial mindset, but it is also to understand that if it is not the right idea that you're willing to pivot into something else.
So, we gained many, many things from the I-Corps program, including networking with fellow participants who had other ideas (because it's a cohort). They always say the purpose of I-Corps is not only to develop the entrepreneurial mindset, but it is also to understand that if it is not the right idea that you're willing to pivot into something else.
How did I-Corps change your mindset?
As a faculty member, you go in with a certain mindset, right? 'I know it all.' I-Corps was bringing down your ego. Yeah, you know a lot about something, but that doesn't mean that you know a lot about everything — especially what it takes to build a business. You are taken down and then are built back up. It took away your preconceived notions, and it accomplished that really well. I had a very valuable experience.
Why should NSF-funded researchers participate in I-Corps?
I would strongly encourage NSF-funded researchers with a good idea to consider applying for I-Corps and going through the process. Chances are that you might be successful as an entrepreneur, but it's also possible that you may not take that route. You might be successful in industry as a leader or a contributor. You might be successful in the public service or as an academic administrator.
I-Corps offers a unique opportunity to have your business idea  vetted through key principles that help in assessing whether your idea is well worth investing time and energy in. If you decide it is, I-Corps teaches you how to structure your thoughts in a way that it can be successful. Or if it proves to be an idea that may not have commercial potential, I-Corps teaches you how to recognize that early in the process so you can pivot and do something else. From that perspective, failure is also a success. Failure presents a good learning experience for you to be able to ultimately succeed in what you want to do—to learn how you want to contribute and what impact you want to make. I-Corps provides lasting inspiration that certainly continues to express itself in other ways, in other forms, and in other kinds of activities that you do.
How does I-Corps continue to help you today?
I always say, the most important thing about the I-Corps program is that it builds the entrepreneurial-ness in you. Success is not always measured by whether you create an entrepreneurial venture. It is also measured by how you take the entrepreneurial mindset and apply it in all of the things you do in your life.
I would say my participation in the program did absolutely help me in all the things that I've done since, including coming into NSF, because I always focus on the process of customer discovery. In this case, I ask myself, what are the needs of the staff, the scientific community, as well as various other constituencies, in order for NSF to be considered successful? That mindset of trying to figure out what you need, that discipline of trying to make sure that you follow a process in your thinking, is exactly what I-Corps helps hone and develop.
You can boldly say that my experiences in I-Corps most certainly is a contributing factor in my leadership positions at Arizona State University and at NSF. You can attribute it to the fact that what I've learned from I-Corps helps me in continuing to use these skill sets for leadership.