Image: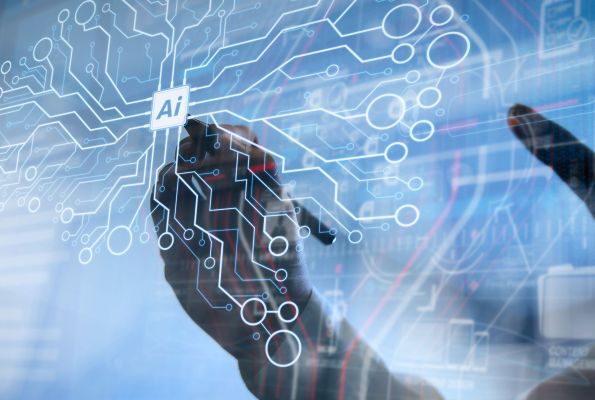 Expanding the geography of innovation: NSF AI Research Institutes 2021
In the face of growing global competition across various high-tech sectors, U.S. investments in fields like artificial intelligence have never been more crucial.
As the primary non-defense federal funder of basic AI research, the U.S. National Science Foundation is leading the Nation in making critical AI investments that will enable breakthroughs across nearly every sector of society, ensuring American health, wellbeing and security.
But advancing AI requires more than just investing research dollars. That is why NSF is building robust, sustainable AI research and innovation ecosystems that will foster fundamental advancements while accelerating the translation of research results to market and practice; catalyze partnerships between federal, university and industry partners; and expand the geography of innovation by fostering regional and national networks of education and workforce training.
NSF's AI Research Institutes program is a key element of this strategy. Today, the agency and its partners announced a combined $220 million investment in 11 new NSF-led National Artificial Intelligence Research Institutes. This investment builds on the first round of seven AI Institutes totaling $140 million that were funded in 2020. The 2021 awards will expand the reach of the AI Institutes to a total of 40 states and the District of Columbia. Each award will total around $20 million over five years to support advancements in seven research areas: Human-AI Interaction and Collaboration, AI for Advances in Optimization, AI and Advanced Cyberinfrastructure, AI in Computer and Network Systems, AI in Dynamic Systems, AI-Augmented Learning, and AI-Driven Innovation in Agriculture and the Food System.
Led by NSF and in partnership with the U.S. Department of Agriculture National Institute of Food and Agriculture – or USDA-NIFA, U.S. Department of Homeland Security, Google, Amazon, Intel and Accenture, the AI Institutes will pursue transformational advances in AI research and applications as well as education and workforce development.
Below are descriptions of what each institute will focus on and why it matters.
NSF AI Institute for Collaborative Assistance and Responsive Interaction for Networked Groups

 – 

AI-CARING
Caring for a rapidly growing population of seniors is one of the biggest health challenges facing the U.S. today. Many seniors want to remain in their homes, but there are not enough care workers to meet the demand, and current monitoring solutions are limited primarily to sending alerts in the event of an accident. This Institute will leverage AI and smart devices, such as speakers or mobile phones, to monitor seniors in their homes and living communities and develop methods that provide continuous, long-term care as well as keep medical personnel and family members engaged and aware.
Led by the Georgia Institute of Technology and partially funded by Amazon and Google, this effort will create collaborative AI systems that learn individual models of human behavior and how they change over time. Combining these observations with background medical information, the AI innovations will allow care workers to respond to the changing needs of seniors over long periods of time, personalize their care and better define the roles of caregivers and family members. This will help increase the effectiveness of care networks and help older adults maintain independence and improve their quality of life – while taking into account the privacy concerns of patients and families.
NSF AI Institute for Learning-Enabled Optimization at Scale

– 

TILOS
Semiconductors are incredibly small devices that are key components of much of the technology used today, enabling communications, computing, healthcare, transportation, energy and other applications. These chips are also incredibly complicated, with billions of possible parameters guiding the operation of each individual chip. TILOS will improve semiconductor design and operations by using AI to solve very large-scale optimization problems beyond the reach of modern computer science techniques. This will enable exponential improvements in current technology and make new discoveries possible.
Led by the University of California San Diego in collaboration with five other universities and partially funded by Intel, this Institute will address the fundamental challenges of scale and complexity in optimization by pioneering machine learning-enabled techniques in several technical focus areas. AI-enabled optimization can make these chips faster, less expensive, smaller, and more secure – depending on application needs. Beyond semiconductor chip design, large-scale optimization can also impact distributed robotics, computing and communication networks, as well as other applications vital to the Nation's health, prosperity and welfare. The project also includes plans for workforce development and broadening participation at all academic levels.
NSF AI Institute for Advances in Optimization
Supply chains are essential to keeping nearly every aspect of modern society functioning. Over the past year, the world has learned how quickly they can be interrupted and that returning supply chains to normal operations is a difficult and lengthy effort. This AI Institute will integrate classic, model-driven techniques of optimization with AI optimization to improve the management of complex operations like global supply chains.
Led by the Georgia Institute of Technology and partially funded by Intel, this Institute will merge AI and mathematical optimization to create intelligent systems that can deliver decision-making at massive scales. Along with supply chains, optimization methods powered by AI will improve decision-making in complex systems for energy, sustainability and circuit design. The Institute will also create sustainable educational pathways for AI in engineering and develop workforce education and broadening participation initiatives, working with leadership from collaborating Historically Black Colleges and Universities.
NSF AI Institute for Intelligent Cyberinfrastructure with Computational Learning in the Environment

 –

 ICICLE
AI is often considered the domain of large organizations using powerful supercomputers to solve grand-challenge problems. This Institute will focus on developing ways to simplify the use of AI and make it available to a broader array of users, such as researchers at smaller institutions, local communities or small farmers who want to incorporate precision agriculture practices into their operations.
Led by The Ohio State University, ICICLE will engage scientists from multidisciplinary backgrounds to build the next-generation cyberinfrastructure that transforms the landscape of AI from a very narrow field to a concept of "AI-as-a-service." To achieve this, researchers will work toward foundational advances in areas such as adaptive AI, knowledge graphs, models and other areas, eventually creating a cycle where improvements in intelligent cyberinfrastructure in turn enhance the AI itself.
NSF AI Institute for Future Edge Networks and Distributed Intelligence

 – 

AI-EDGE
The communication networks of the future will do much more than just help people talk and text. They will connect intelligent machines that provide services and solutions for the benefit of all. This Institute will facilitate higher bandwidth, lower connection delays and enhance reliability and security – essential characteristics for future services.
AI-EDGE, led by The Ohio State University and partially funded by DHS, will create new AI tools and techniques to ensure that communication networks are self-healing and self-optimized. These networks will also be designed to help solve longstanding distributed AI challenges – making AI more efficient, interactive and secure to deliver applications in sectors such as intelligent transportation, remote healthcare, distributed robotics and smart aerospace. 
NSF AI Institute for Edge Computing Leveraging Next Generation Networks 

–

Athena
Modern mobile networks currently in development promise increased bandwidth and faster connectivity to enable a broad range of new applications and services. However, these networks, which are spread across expansive geographic regions, will require massive computational capabilities. This Institute will focus on providing better access to all users, including those at the edge of the network and in the cloud, while keeping network complexity and cost under control
Athena, led by Duke University and partially funded by DHS, will bring together a multi-disciplinary team of scientists, engineers, statisticians, legal scholars and psychologists from seven universities to transform the design, operation and service of future mobile systems and networks. The Institute will translate emerging technical capabilities to new business models and entrepreneurial opportunities as well as create educational and workforce development programs to build the next generation of mobile network leadership. 
NSF AI Institute for Dynamic Systems
To take full advantage of the potential of AI, future AI systems must be trained to react to continually changing environments within dynamic systems. Training AI to understand basic physics concepts that govern these dynamic systems will lead to the development of more accurate solutions
This Institute, led by the University of Washington with partial funding from DHS, will enable innovative research and education in fundamental AI and machine-learning theory, algorithms and applications for real-time learning and control of complex dynamic systems. Integrating the physics-based models with AI and machine-learning approaches will produce data-enabled solutions that are ethical, robust and reliable, and that will enable real-time sensing, learning, prediction and decision making across science and engineering.
NSF AI Institute for Engaged Learning
NSF is a longstanding champion of STEM education and believes in the importance of sparking scientific curiosity in students from all backgrounds at an early age. Engaging students in rich, narrative-based problem-solving learning experiences is an innovative way to promote STEM learning.
This Institute, led by North Carolina State University, will pursue transformations in STEM teaching and learning by advancing natural language processing, computer vision and machine learning. The Institute will serve as a nexus for in-school and out-of-school STEM education innovation, empowering and engaging diverse learners and stakeholders to ensure that AI-driven learning environments are ethically designed to promote equity and inclusion.  
NSF AI Institute for Adult Learning and Online Education (ALOE)
Maintaining global science and engineering leadership hinges on the development of an adequately-trained STEM workforce in the United States. In addition to engaging young learners with STEM concepts, developing and maintaining such a workforce will require improving STEM education and workforce training for adults.
To address this challenge, this Institute, led by the Georgia Research Alliance and partially funded by Accenture, will lead the development of AI theories and techniques for enhancing the quality of adult online education, making it more comparable to in-person educational opportunities. Working with partners in technical colleges and the educational technology sector, ALOE will advance online learning using virtual assistants to make education more equitable through availability as well as more affordable and will ensure that students have a higher potential for success. 
The USDA-NIFA Institute for Agricultural AI for Transforming Workforce and Decision Support

– 

AgAID

– 

and the USDA-NIFA AI Institute for Resilient Agriculture

 –

 AIIRA
Access to food is a national security issue, but food producers are facing more challenges as climate change affects elements critical to plant growth such as soil, temperature and rainfall. A pair of AI Institutes funded by USDA-NIFA will apply AI to develop more advanced means of predicting and managing crop growth cycles and develop more climate-resilient fruit and vegetable crops.
Led by Washington State University, AgAID will integrate AI methods into agriculture operations for prediction, decision support and robotics-enabled agriculture to address complex agricultural challenges. The AgAID Institute uses a unique adopt-adapt-amplify approach to develop and deliver AI solutions to agriculture that address pressing challenges related to labor, water, weather and climate change. The institute involves farmers, workers, managers and policy makers in the development of these solutions, as well as in AI training and education, which promotes equity by increasing the technological skill levels of the next-generation agricultural workforce.
Led by Iowa State University, AIIRA will transform agriculture through innovative AI-driven digital twins that model plants at an unprecedented scale. This approach is enabled by advances in computational theory, AI algorithms, and tools for crop improvement and production for resiliency to climate change. In addition, AIIRA will promote the study of cyber-agricultural systems at the intersection of plant science, agronomics and AI; power education and workforce development through formal and informal educational activities, focusing on Native American bidirectional engagement and farmer programs; and drive knowledge transfer through partnerships with industry, producers and federal and state agencies.