Image: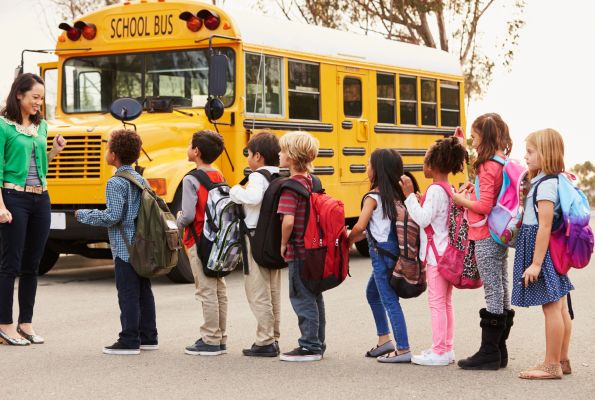 Education researchers assess impacts of long-term remote learning on students
NSF projects support return to classroom
Students and teachers had their routines disrupted when the nation shut down in March 2020 to fight the COVID-19 pandemic. Across the country, educators took their classrooms online to keep students engaged, and as the lockdown continued for many into the following school year, remote learning options became more sophisticated and interactive.
The success of these online learning efforts varied across the country, influenced by an array of factors, leaving many educators and researchers wondering what long-term impact this interrupted year will have on STEM students of all levels and backgrounds.
As the only U.S. federal agency that supports fundamental research across all fields of science and engineering, the U.S. National Science Foundation made more than 1,200 awards totaling over $200 million to study multiple aspects of the pandemic. Among those are projects assessing the impact of lost classroom time, as well as projects helping students and teachers return to face-to-face, group learning settings.
The pandemic becomes a teaching opportunity
As learning environments shifted from the classroom to the home, teachers and parents looked to take advantage of existing resources, such as NSF-supported STEM activities for students online. There were also multiple NSF awards made to groups developing additional instructional aids for teachers.
Adam Maltese, an associate professor at Indiana University Bloomington, led the launch of a Facebook group – CoBuild19 – to deliver STEM activities for kids. Under the NSF grant, the group analyzed how families and children engage with the activities and how STEM content can best be delivered to meet learners' needs and interests. The page now has approximately 5,000 members, including museums, organizations, teachers, librarians and parents. 
Researchers from the University of Missouri and the University of North Carolina at Chapel Hill collaborated to develop a curriculum that teaches high school students about viral epidemics as a scientific and social issue. The approach was designed to help students connect their classroom learning experiences with their lives beyond school, a key characteristic of science literacy. A follow-on award will help researchers develop new curriculum for students interested in learning about epidemics to different types of scientific modeling.
Students and professors at University of Houston-Clear Lake expanded the scope of an existing Course-based Undergraduate Research Experience (CURE) award in microbiology to research how the coronavirus might spread among younger adult populations with asymptomatic carriers. This NSF RAPID award enabled students to learn how research is conducted as well as contribute knowledge about how the coronavirus works. Students also developed a virtual reality tool to learn how to sequence DNA fragments, building skills valuable in clinical and research laboratories.
Remote learning could have long-term impact on STEM diversity
Teachers worked harder than ever during the lockdown, but the success of remote learning varied amongst groups and throughout regions. A consistent finding among researchers measuring the impacts was that disparities such as lack of internet access in rural areas, were amplified during the lockdown.
Time away from regular classroom interaction leads to declines in student performance, often referred to as "summer learning loss." The National Opinion Research Center at the University of Chicago is studying the impact on students of the extended loss of classroom time due to the pandemic, or "pandemic learning loss," especially in STEM education. The repercussions are expected to fall disproportionately on poor, minority and underserved students, and initial findings indicate that academic gaps in STEM learning have increased.
A similar study on undergraduate STEM students and the impact of the digital divide found that about 1 in 6 students taking a STEM course often had internet connectivity or other technology problems. This was more prominent among students of color and those from lower-income households. Researchers at Fort Valley State University found that historically Black colleges and universities experienced a range of negative impacts on student retention and learning, due to both a lack of online tools available for students and instructors that had little experience in teaching online courses.
Our community rose to the challenges that fulltime remote learning created and kept many students engaged throughout a difficult time. But the environment also reminded us of the inequalities faced by our most vulnerable in regard to access to quality educational opportunities, especially in STEM fields. - Sylvia Butterfield, acting assistant director for EHR
Technology was not the only source of problems for students. Some expressed that they had trouble staying motivated due to the lack of in-person interaction with teachers and classmates as well as concerns about whether remote learning of basic level courses would properly prepare them for higher level classes.  Research on the mental health impacts of graduate students conducted by Montana State University found that negative impacts on learning were also created by increasing concerns around food and housing insecurity or more childcare responsibilities. This resulted in an increase in expected delays in completing degree work or a change in career plans.
This long-term impact of pandemic learning could be a further reduction in the quantity and diversity of STEM professionals, with only those students whose families have the resources to easily access e-learning opportunities remaining fully committed to STEM education programs, researchers said.
"The COVID-19 pandemic had a far-reaching impact, affecting students of all ages and educators," said Sylvia Butterfield, acting assistant director for EHR. "Our community rose to the challenges that fulltime remote learning created and kept many students engaged throughout a difficult time. But the environment also reminded us of the inequalities faced by our most vulnerable in regard to access to quality educational opportunities, especially in STEM fields."
NSF funding to support return to classroom and laboratory
While researchers continue to assess the impact of expanded remote learning, students at all education levels are returning to the classroom. NSF has developed several programs to aid students in these efforts.
As part of the response to COVID-19, the NSF Directorate for Education and Human Resources is funding awards through both regular appropriations and new sources. Existing funding programs will also be used to help students get back on track, such as the EHR Racial Equity in STEM Education program, the Advancing Innovation and Impact in Undergraduate STEM Education at Two-year Institutions of Higher Education, and Supplemental Funding for Postdoctoral Researchers to Mitigate COVID-19 Impacts on Research Career Progression.
Thanks to Congress, funding provided under the American Rescue Plan will be used to support groups most affected – women researchers, underrepresented groups and early-career faculty – as well as individuals at vulnerable career transition points, such as undergraduates preparing to attend graduate school, graduate students nearing the end of their research careers and postdoctoral fellows. In addition, funds will support the nation's science museums and other community-based organizations that provide learning opportunities and have been challenged during the pandemic. 
"With students across the US back in the classroom, we must strive to ensure that the tools and proper environments for learning are accessible and equitable for all," Butterfield said. "We can build upon the lessons we learned over the past several months, not just to help students and researchers recover from any setbacks but to create improved opportunities for education that are available to all."