Image: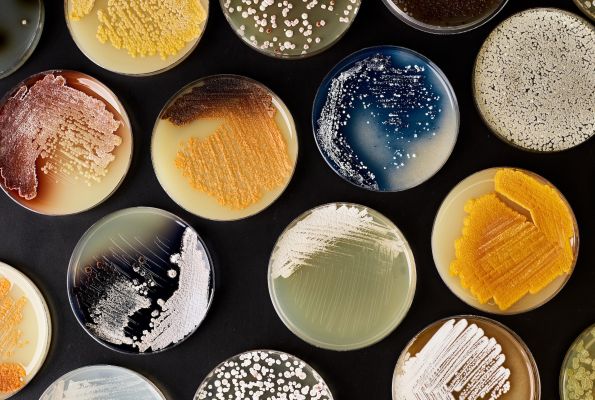 Turning cells into manufacturing centers
NSF-supported synthetic biology company transforms production industries
The world is on the verge of a manufacturing revolution, but some production lines can't be seen by the naked eye. Pioneers in the field of synthetic biology are turning cells into microscopic production machines by "programming" the basic operations of the cell.
"What we're doing in synthetic biology is really a tool revolution," said Jason Kelly, co-founder and CEO of Ginkgo Bioworks, one of the largest users of DNA printing in the world. "The idea is, how do you make it so that someday you could program a cell as easily as you program a computer? It's not crazy to think someday we'll be able to design biology. It's a matter of knowing what code to write, and then you can do all sorts of things."
Ginkgo Bioworks is one of the early pioneers in the field, founded in 2008 by Kelly, three classmates at the Massachusetts Institute of Technology — Reshma Shetty, Barry Canton and Austin Che — and their professor, Tom Knight, who has been called the "godfather of synthetic biology." Ginkgo Bioworks' cell programming technology has been used to produce fragrances, fertilizers and animal-free meats, among a growing list of products. During the COVID-19 pandemic, Ginkgo Bioworks provided in-school COVID-19 testing options for K-12 schools and supported vaccine manufacturing with companies such as Moderna and Aldevron.
Kelly compares the potential of synthetic biology to the impact that computers have on a wide range of information-based sectors. "The computer is a general-purpose machine that works on code. The cell is a general-purpose machine that is programmable with code. The cell doesn't move information around. It moves atoms around and makes things."
A commercial business vastly larger than its parts
Synthetic biology combines the work of multiple scientific disciplines to direct living cells to operate in new ways — similar to microscopic factories. The cells are programmed using the four basic chemical building blocks of DNA — adenine, thymine, cytosine and guanine, known by the letters A, T, C and G, respectively — much like how computer programmers use 0s and 1s. Using this cell programming technique, mammalian, bacteria and yeast cells may be directed to serve specific purposes, such as creating new meat, dairy and plant-based proteins using fermentation instead of animal agriculture.
Ginkgo Bioworks does not provide products directly to the consumer market, Kelly said. Instead, companies use Ginkgo's synthetic biology services to manufacture their own products. Ginkgo Bioworks worked on 49 different cell programming projects with partners in 2020, focused on applications at the nanoscale and molecular scale, such as producing therapeutics, specialty chemicals and enzymes. The company is adding 30 more projects in 2021 and plans to add an additional 60 in 2022.
Today, Ginkgo Bioworks has more than 600 employees.  Commercial investors have seen the potential in synthetic biology as well. In September, the company went public in a deal that valued Ginkgo Bioworks at $15 billion.
How NSF enabled the field of synthetic biology
The U.S. National Science Foundation NSF has played a leading role in supporting the fundamental research that launched the synthetic biology field. Gingko Bioworks received early funding from America's Seed Fund powered by NSF, also known as the Small Business Innovation Research (SBIR)/Small Business Technology Transfer (STTR) program, which supports startups to take deep technologies — often developed as a result of basic research — and create for-profit companies that could have significant market or societal impact.
When Ruth Shuman brought her expertise as the CEO of a venture-backed life science company to NSF, one of her first priorities as program director for the Biological Technologies area of SBIR/STTR Program was to jump-start NSF funding for research and development in synthetic biology.
"NSF wants to fund companies that have a chance to develop very disruptive tech," said Shuman, currently the program director for NSF Innovation Corps (I-Corps™). "NSF often provides the first infusion of research and development funding into these very high-risk companies."
Ginkgo Bioworks was one of the first synthetic biology companies NSF funded and is a perfect example of "the kind of disruptive company we want to fund," Shuman said. Early in its history, Ginkgo received SBIR Phase I and II awards, and subsequent SBIR awards from other federal agencies providing the company with over $3.1 million in total funding. Before starting the company, some of the co-founders also received funding from the NSF Graduate Research Fellowship Program and conducted research at the NSF Synthetic Biology Engineering Research Center.
Continued NSF support will complement commercial investment
Beyond Ginkgo Bioworks, Kelly credits NSF and Shuman for funding "about half of the industry," along with providing the business guidance that the researchers needed. Those first-generation synthetic biology researchers are now the senior executives and leaders that are growing the industry and inspiring the next generation of researchers.
Other NSF-supported companies developing synthetic biology-based solutions include: Lygos, which is developing a biomanufacturing process to create high-value chemicals for use in pharmaceuticals, metals manufacturing and many other applications; Novome Biotechnologies, which is developing therapeutic bacteria to treat chronic diseases; Antheia, which is using yeasts to make medication; and Caribou Biosciences, a pioneer in CRISPR gene-editing techniques.
"The future of synthetic biology could involve projects on a much larger scale," Kelly said. "Biology is good at self-replicating and self-assembly. This has us excited in the long term about areas such as building materials.
While commercial investment in synthetic biology is growing rapidly, NSF support of fundamental research will continue to play a critical role in nurturing the continued development of the technology behind the sector, Kelly said.
"There is still very robust academic research in synthetic biology, and that's very important. That should keep happening," Kelly said. "Providing business funding for early-stage companies, where NSF is effectively playing a role in closing a gap in the venture capital ecosystem, is a very important thing for the country. It's closing a very substantial gap in the U.S. venture ecosystem. There are probably a million things we could do but aren't even trying. I think the SBIR program is ideal to support disruptive technologies."