Image: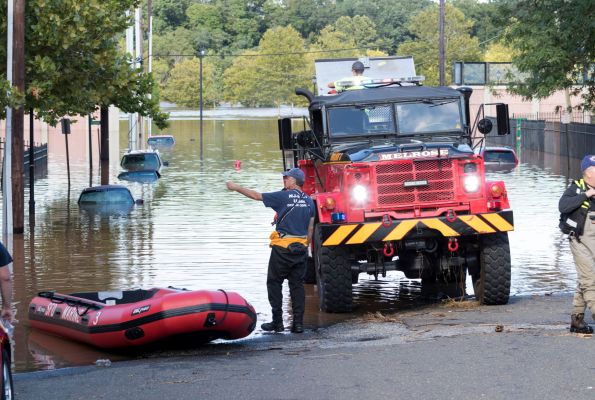 Improving disaster resiliency by focusing on local challenges, knowledge
NSF Civic Innovation Challenge teams designing solutions that can be implemented in communities across the US
Natural disasters – hurricanes, floods, heat waves, wildfires, pandemics – can have a broad impact, affecting millions of people across the U.S. and causing billions of dollars in damage and economic losses. These events dominate national news coverage, as TV stations cover the horror of the event and the destruction left behind. But the true impact is seen and felt most sharply at the local level, where neighbors are the ones suffering, and the work to rebuild lives and the community continues long after the news teams have left.
Creating solutions to mitigate the effects of disasters or streamline aid and recovery efforts in the wake of the event is the driving force behind the Civic Innovation Challenge. The program, led by the U.S. National Science Foundation in partnership with the Department of Energy and Department of Homeland Security, awarded grants to local teams across the U.S. that seek to develop community-based solutions that improve disaster resilience.
In the first stage, teams of local, state and tribal officials as well as nonprofit and community leaders, refined projects focused on making communities better prepared and more resilient in response to floods, hurricanes, wildfires and other events. In Stage 2, 11 disaster resiliency teams received awards of up to $1 million to develop ready-to-implement pilot projects in a 12-month time frame. A parallel track of the Civic Innovation Challenge focused on mobility projects. 
Integrating local knowledge that may have been overlooked
Addressing these issues at the community level enables leadership to leverage local resources and knowledge about the specific challenges in the area. "With formal disaster management, all responses start local," said Robin Murphy, a computer science and engineering professor at Texas A&M University.
Murphy's project, Community-Centric Pre-Disaster Mitigation with Unmanned Aerial and Marine Systems, will train students at three high schools in underserved areas to use drones and robotic boats to collect imagery of vulnerable areas and analyze the data using geospatial software and artificial intelligence. "Training them to use the technology is sparking interest in STEM fields among the students while also helping short-staffed departments of emergency management better prepare ahead of potential disasters," said Murphy.
Allen Hyde, a sociologist at Georgia Tech, is working with students in Savannah, Georgia, on the Visualizing Resilience: BIPOC Youth Advocacy through Mapmaking project. This project will engage Black, Indigenous and People of Color, or BIPOC youth living within frontline coastal communities in disaster resilience planning through mapmaking and advocacy. Map Spot, a creative and accessible mapmaking tool, as well as Youth Advocacy for Resilience to Disasters, or YARDs, a curriculum adapted from a validated program, will be introduced to educate and empower middle school-age participants to advocate for infrastructural improvements in their neighborhoods related to disasters and their effects. In addition, students will be instructed in how to advocate with local officials, who are also partners in this project, to improve disaster resiliency in communities where these issues have been overlooked for decades.
Working with local stakeholders was essential for Hyde when tailoring the proposed pilot to the priorities of the community and local concerns. "After doing community engagement, many communities of color said flooding wasn't as much of a concern to them as other issues, such as living near a port and the pollution associated with that or COVID-19," said Hyde.
Empowering communities through data-driven decision-making
A key enabler of many of the projects is the rapid advancement of technology. Fernando Moreu, a structural engineer at the University of New Mexico, oversees the Low-Cost Efficient Wireless Intelligent Sensors (LEWIS) for Greater Preparedness and Resilience to Post-Wildfire Flooding in Native American Communities project. The team will deploy more than 100 sensors to collect data that can assist in managing wildfires and provide early warning when fires and floods may occur. 
Since each sensor costs up to $60,000, the Native American tribe that Moreu is working with had just four available. The sensors being used for the project can be made for $200, meaning the tribe can place multiple sensors at multiple locations, providing redundant sources of data as well as giving control over the collection and use of that data to the tribe.
"Native Americans have experience in flood monitoring that dates back hundreds of years. Their knowledge is ahead of ours," Moreu said. "Now that the community is in charge of developing the application of the technology, the knowledge of the problem is integrated with the use of the technology. The community understands the details, and with those details, changes can happen. If the community is empowered, then the solution will be their solution."
Access to data also is a critical part of CaReDeX: Enabling Disaster Resilience in Aging Communities via a Secure Data Exchange. The project aims to enhance the resilience of older adults, many with specialized needs, in disasters by creating a platform that allows real-time exchange of critical care information between caregivers at senior housing facilities and authorized responders. 
"The motivation behind this project is that responders need specialized information when dealing with older adults - not just an evacuation point," said Nalini Venkatasubramanian, a computer scientist at the University of California, Irvine. "Caring for older adults in need cannot have a one-size-fits-all solution. Some individuals may need to go to specialized centers for triage and prolonged care, and new caregivers need to know about these individuals. We can create information preparedness ahead of time in a secure and careful manner from sensing, IoT and data analytics embedded in the senior care facilities."
Expanding the solutions nationwide
An important aspect of the Civic Innovation Challenge is that teams share information and ideas amongst each other through communities of practice activities, helping them learn from each other and position the projects to have a wider impact.
"It was very inspiring to have an open table and open conversation with very different projects of people and areas – all talking the same language on disasters," Moreu said. "I benefited a lot from talking with different parts of the country and different groups. Different administrations are emphasizing the importance of this work, and we are all interested to see how this works and learn and extrapolate from it."
This collaboration also contributes to the goal that each solution should have a template that can be adapted by other communities across the U.S. "Replicability of the solutions across regions and across populations is important," said Venkatasubramanian. "We also see the ability to have a solution that can be useful during non-disaster times. We have been working with senior care facilities for uses such as with fall detection. We want to allow this technology to be continually used and tested and validated."
Working with a sense of urgency
With the frequency and impact of all types of natural disasters seemingly growing, there is a sense among the project leaders that their work has taken on a greater importance.
"There needs to be an understanding that there is not always just one disaster. Sometimes there are cascades of disasters," said Venkatasubramanian. "Understanding what could happen and being prepared for that is as important as dealing with what is happening now. We can't always predict when and where disasters will occur and the level of impact to citizens. But if such data-driven methods can be used to provide personalized care in the next disaster, we expect to see better outcomes. The scope of such tools, i.e., how it could be extended to other populations and events, is really quite large."
"I hope to see youth become better advocates for disaster resilience," Hyde said. "I want them to become advocates in their community. Maybe this becomes a career path for them and they become leaders in the future. I also want to see the city and local governments and partners become energized around disaster preparedness. I think 2020 and 2021 has been a wakeup call for disasters. This is the current reality, and we need to better prepare and become more resilient."
More information on these projects as well as other Stage 2 projects can be found at the Civic Innovation Challenge webpage and nsf.gov.
To contribute to idea sourcing for a possible future round of the Civic Innovation Challenge, you can register at https://nsfcivicinnovation.org/ideas-festival/ to join a two-week Ideas Fest, which begins on October 5, 2021.