Image: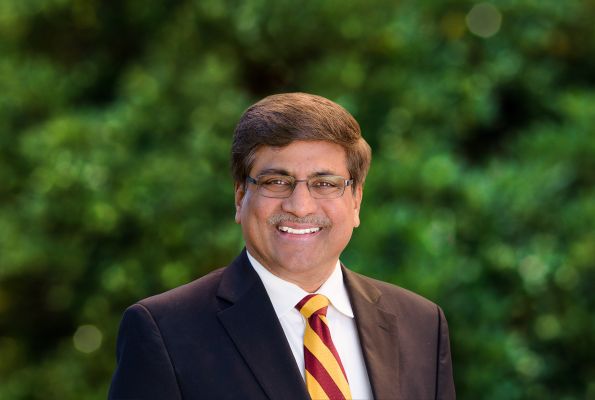 Leader of AI breakthroughs, champion of innovation and inclusivity
Meet Sethuraman Panchanathan, 15th Director of the National Science Foundation
He speaks in terms like "inspiration," "creativity," "innovation mindset," and "the science spirit." Sethuraman Panchanathan grins as he describes himself: "I'm an eternal optimist."  
He goes by "Panch."  
Who is he? By titles and numbers, the 15th Director of the National Science Foundation. Father, husband, Arizona State University Sun Devil, and the first American of Indian origin appointed to the National Science Board. Panchanathan holds four patents, has published more than 485 papers in peer-reviewed journals and conference proceedings and has mentored graduate students, post-docs, research engineers and research scientists —more than 150.
Among piles of accolades and pages of awards, consider one from Arizona State University—early recognition for what would define key pieces of his life's work and personal mission: Outstanding contributions to improving the lives of individuals with disabilities. 
Photo credit: Arizona State University
Revolution   
Panchanathan was born and raised in Chennai, on the Bay of Bengal. He earned a doctorate in computer engineering from the University of Ottawa in 1989. He graduated as the information technology revolution was changing nearly everything—commerce, the way people connected and communicated, and the practice of science.
NSF funding helped usher in the information age with networks such as the NSFNET backbone, a bridge to a commercial internet. Panchanathan recalled how this revolution inspired him to move to the U.S.: "I was so taken by the information and technology revolution taking place at the time and wanted so much to be part of and contribute to this revolution."
At ASU in Tempe, Arizona, his contributions enabled machine and human to meet in "synergistic, symbiotic" ways. To get an idea of what this means, think of Stephen Hawking. The renowned physicist was paralyzed and unable to use his vocal cords.  Panchanathan points to Hawking's use of assistive technologies to nevertheless express his voice as "a powerful example of how people and machines can work symbiotically to unleash human potential."
Photo credit: National Science Board
Abilities  
The way Panchanathan sees it, "When technology is your companion, it frees you up to do creative, artistic things." That's why, at ASU, he founded the Center for Cognitive Ubiquitous Computing, where researchers use artificial intelligence and machine learning to "empower people across the entire range of abilities." 
Enabling people across a range of disabilities to better engage in daily life wasn't the goal, at first. In fact, Panchanathan's skillset in image processing and computer vision was focused on sight. But as he started working with people who are blind or visually impaired, he realized, "When you work with individuals with disabilities and you understand the hard problems to solve, you are now finding those solutions that actually enable everyone." For example, an assistive note-taker designed by a visually impaired student offers fellow students with sight an enhanced ability to take better lecture notes. 
From focus groups, Panchanathan identified the hard problems. For example, just entering a room and starting a conversation can be problematic for the visually impaired. If you're blind, you usually wait for others to approach and start a conversation. Panchanathan was adamant: "That's not acceptable."
So his team explored the assistive potential of haptics, or how we interact through touch. Haptics can communicate situational awareness cues and information to enable a blind person to engage. An example is the feeling you get when your phone vibrates. Researchers at the center are imagining haptic devices —such as a belt and a glove—that assist the wearer.
Panchanathan maintains that such technology can change conventional thinking about disabilities. The focus is no longer on overcoming an impairment, but on tapping expansive potential, "It gives you an opportunity now to explore the capacities, the capabilities of your brain. We are inherently creative beings. It opens up the creative spirit." 
Photo credit: Arizona State University 
Leadership  
As executive vice president of the ASU Knowledge Enterprise and the chief research and innovation officer, Panchanathan's leadership took ASU to the top of U.S News & World Report's "Most Innovative Schools" ranking, five years in a row. 
In a 2017 talk, Panchanathan explained that in an environment conducive to innovation, you celebrate success. But you also honor failure because if you're trying to innovate, "Chances are that you will try, you will fail. And then you will try, and you will fail. And then you will try, and you will succeed, possibly." The point is that failure is a temporary phase before success. Resilience, Panchanathan explains, is the core of the innovation mindset.
The future of American competitiveness requires such creative and innovative mindsets, Panchanathan testified in the 2019 U.S. Senate hearing "Research and Innovation: Ensuring America's Economic and Strategic Leadership." He also urged inclusivity in STEM as a key to maintaining global leadership. "World-class science requires talented scientists and engineers drawn from every corner of our nation – from remote rural areas to the largest urban centers. The best science is shaped by a wide range of perspectives," Panchanathan explained. 
He believes that stronger global partnerships are essential to fostering creative approaches to the big challenges facing society. As an example, Panchanathan pointed to oceans and a sustainable future. "It's not just a science problem, or an engineering problem, or a behavior problem, or a social problem, or a cultural problem, or a policy problem; it is all of the above and more." Big challenges require creative approaches and global cooperation.
[June is Oceans Month, read about NSF funded-ocean discoveries here]
Photo credit: Arizona State University 
Inspiration  
Beyond titles and numbers, the 15th Director of the National Science Foundation believes, "every human being has raw, untapped potential that can be realized with the right support and opportunity."  
He believes teachers must inspire students. "It's a humongous responsibility." At the recent National Science Board meeting, he spoke in awe of the inspired and inspiring students responding to the pandemic by designing and validating personal protective equipment with NSF-seeded technologies such as 3-D printers.
He believes in "seeding bold, large-scale foundational research with meaningful societal impact." At a time when emerging technologies such as AI and quantum are creating the industries of the future and the world is confronting the greatest challenges humanity has ever faced, science stands on the brink of new expanses in its endless frontier. Panchanathan believes, "This is an exciting future." 
Written by Trisha Calvarese, Speechwriter in the Office of Legislative and Public Affairs, National Science Foundation / Prime Meridian Media Inc.