Image: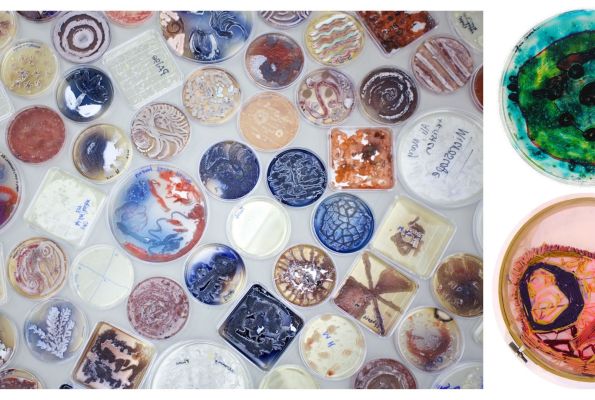 When science meets art: 6 NSF research projects that turn STEM into STEAM
There's beauty in science. Throughout history, scientists have been inspired by the elegant designs of nature and are fascinated today by new pictures of atomic structures and galactic black holes. Yet this overlap between science and art is often overlooked.
By adding art in their work, NSF-funded researchers are breaking traditional boundaries to transform STEM -- science, technology, engineering and mathematics -- into STEAM!
1. Rather than choose between pursuing a career in chemistry or the arts, Madeline Corona pursued a role where she could do both. She began exploring the science of art conservation as an undergraduate student after joining the chemistry lab of Michelle Bushey. She then landed a summer internship studying the pigments in historic frescos at the Alamo. Using scientific equipment to measure how materials interact with light, absorbing or reflecting it, she could carefully identify chemical elements and compounds in specific pigments.
Corona earned a master's degree in art conservation and continues to put theory into practice as the Assistant Conservator of Decorative Arts and Sculpture at the J. Paul Getty Museum.
2. The Metropolitan Museum of Art takes the science of art conservation very seriously. In order to better understand how to preserve paintings for future museum goers, scientists Cecil Dybowski at the University of Delaware and Silvia Centeno at the Met study the way paintings deteriorate.  As oil in paint ages, it develops salt-like deposits called "lead soaps." Lead soaps can cause a painting to deteriorate and alter the appearance of paint colors. By analyzing how these paint films develop, researchers and curators can improve restoration techniques and develop safer environmental conditions for storage.
3. Jessica Hoover, an NSF CAREER awardee at West Virginia University, teaches and researches organic chemistry. She also masterminds and co-leads the Community Engagement in Science Through Art program, a one-month summer program for students to collaborate on an art installation piece, drawing on their different backgrounds in sculpture, engineering and chemistry.

These teams of students must overcome the technical jargon of their own disciplines to collaborate in creating an interactive art piece for their local campus community. The project aims to train students in communication and collaboration skills, making both science and art more visible to the public.
 
4. Lou Charkoudian, another CAREER awardee, takes science into the art gallery. A chemistry professor at Haverford College, she integrates active research projects in biochemistry into her classroom. She also takes her students out of the traditional classroom.

Teaming up with the Center for Creative Works, a local art studio whose artists are adults with intellectual and developmental disabilities, students engage in a reciprocal process of both teaching and learning. Undergraduates demonstrate how to make "BioArt" by painting different strains of bacteria onto petri dishes. The adults then teach the college students needlepoint and how to create unique designs with decoupage, a technique involving layering paper cutouts and glue. All the bacteria-themed pieces are displayed in an exhibit after the course, strengthening community engagement.
 
5. Origami, the ancient Japanese art of paper folding, is a perfect mathematical analogy. Mathematicians such as Thomas Hull at Western New England University use mathematical formulas to predict how materials fold. Hull has discovered two well-known origami patterns, including modular phizz units, which are pentagon-hexagon zig-zags that can be combined into many larger shapes. New origami models inspire solutions to age-old problems in engineering. For example, the Miura-ori origami pattern was used to carefully fold and deploy a solar panel array on Japan's 1996 Space Flyer Unit.

In addition to solving mathematical theores, Hull also works with students on origami research projects, helping students learn math and also engage with the interesting and ancient technique of origami. You can learn more in a recent video interview for the Museo del Origami in Uruguay, one of only two origami museums in the world.
 

[Learn more about NSF-funded science that is inspired by origami in the above video]
6. For centuries, humans have experimented with natural pigments to dye, draw, paint and color clothing, pottery and murals. But we're still making colorful discoveries. Mas Subramanian's lab at Oregon State University accidentally discovered YInMn blue in 2009 -- the first new blue pigment discovered in over 200 years! YInMn blue is a safe, stable and incredibly vivid blue pigment. Made of yttrium, indium, and manganese, this new blue even inspired Crayola's "bluetiful" crayon and has recently been fully approved for commercial use.

Now Subramanian's lab is seeing red. They just received an NSF EAGER (Early Concepts Grants for Exploratory Research) award to develop an inorganic red pigment that has the rare but very important combination of vibrancy and non-toxicity.



What art breakthroughs will scientific discovery lead to next?