Image: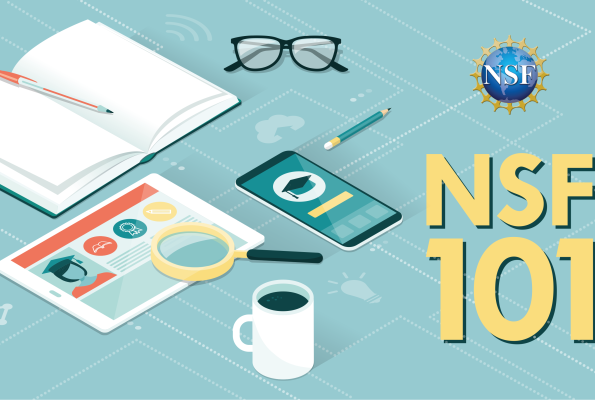 NSF 101: Earn a Ph.D. in computer sciences with the CSGrad4US program
Have you ever considered what a Ph.D. might do for your career in computer science?
Many who complete a bachelor's degree in computer science, computer engineering or information science find jobs in industry after graduating, but pursuing graduate education can open new doors-- and not just to a professorship at a university. The skills acquired in earning a Ph.D. prepare you to develop ideas that can benefit not only your research field but also the public and can create a path to leadership positions in industry, academia and government.
But where do you start? One of the biggest challenges of getting into graduate school is finding an experienced mentor to guide you through the process: preparing the materials, researching different programs and finding funding for the right program. To help with this challenge, the U.S. National Science Foundation created the CSGrad4US Fellowship, which aims to increase the diversity of U.S. citizens, U.S. nationals, or U.S. permanent residents pursuing graduate research and subsequent careers in computer science and engineering. The fellowship is also an opportunity for those already working in industry or other sectors to return to academia to purse a research-based doctoral degree.
In the one-year program, CSGrad4US Fellows work with faculty mentors who help them figure out which grad program is right for them, network with other mentors and fellows, and learn how to apply to graduate schools. After being accepted into a graduate program, CSGrad4US Fellows receive a stipend of $34,000 per year for three years out of five, plus a tuition allowance of $12,000 per year for those three years.
In its inaugural year, 70 diverse CSGrad4US fellows will be selected based on their demonstrated interest and potential to pursue a Ph.D. in a computer science or information science field.
Here are the 4 steps you need to take to apply to NSF's new CSGrad4US Program.
Application Timeline for 2021:
Application Deadline: 5:00 p.m. submitter's local time on April 13, 2021
Reference Letter Deadline: 5:00 p.m. Eastern Daylight Time on May 4, 2021
Notification of Selection: Summer 2021
Mentored Preparation Program Start Date: Fall 2021
Mentored Preparation Program End Date: Summer 2022
Applicants Enroll in Doctoral Degree-Granting Programs: Fall 2022-Fall 2023
NSF's CSGrad4US is an exciting opportunity to further your education in the computer and information sciences and could open many doors for you down the road. If you have any questions about the program, please contact a program officer at csgrad4us@nsf.gov.