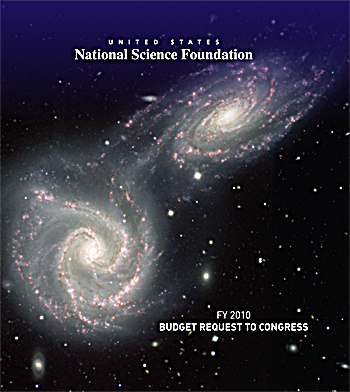 Cover image: Twin galaxies in a gravitational embrace.
Credit: Gemini Observatory
More about this image.
The National Science Foundation is the only federal agency dedicated to the support of basic research and education across all fields of science and engineering. We explore the frontiers of scientific knowledge and extend the reach of engineering by encouraging, identifying, and funding the best ideas and most promising people.
NSF's FY 2010 Budget Request is $7.045 billion, an increase of $555 million (8.5 percent) over the 2009 plan of $6.49 billion. In addition, since investments in science and technology foster economic growth and create high tech, high-wage jobs, NSF received a one-time appropriation of $3.0 billion from the American Recovery and Reinvestment Act of 2009, raising the agency's overall FY 2009 appropriation to $9.49 billion.
The high-risk, potentially transformative investments we make generate important discoveries and new technology, create and train a dynamic workforce, and spark the curiosity and creativity of millions. Our investments in research and education help ensure that our Nation remains globally competitive, prosperous, and secure.
To view related information about the budget request, please use the links below.
 Budget, Finance & Award Mgmt (BFA)
 Budget Division
 Office of Legislative & Public Affairs (OLPA)
 Press Release, May 14, 2009
 Statement by the NSF Director
 Press Release, February 26, 2009
For more information about file formats used on the NSF site, please see https://www.nsf.gov/help/plugins.jsp.