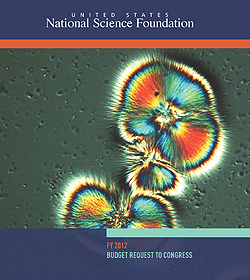 Microbe vs. Mineral--A Life and Death Struggle in the Desert
Credit: Michael P. Zach, University of Wisconsin-Stevens Point
Although the bursts of rainbow colors in this photograph are mesmerizing, microbes fight for their lives in the background. Chemist Michael P. Zach of the University of Wisconsin-Stevens Point, snapped this image of a salt sample he collected in a hot, arid valley near Death Valley National Park in California. He crushed the salt, placed it under a microscope slide and added a drop of water. Suddenly a slew of microbes came to life as the salt crystals dissolved. Then when the water started evaporating, he took a picture. The colors come from light passing through the growing crystals, which act like prisms. The photograph was named an Honorable Mention in 2009 in the International Science & Engineering Visualization Challenge, jointly sponsored by NSF and the journal Science.
Return to the FY 2012 budget request page.