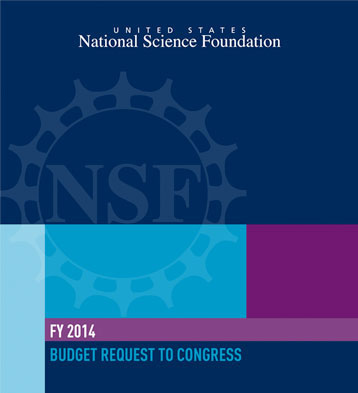 The National Science Foundation (NSF) is the only federal agency dedicated to the support of basic research and education across all fields of science and engineering. For over 60 years, NSF has had a profound impact on our nation's innovation ecosystem by funding transformative research that has explored--and extended--the frontiers of scientific knowledge, promoted new industries and addressed societal challenges.
NSF's FY 2014 budget request is $7.626 billion, an increase of $592.69 million (8.4 percent) over the 2012 enacted level. This request reflects a rigorous prioritization of activities across the foundation. In an era of fiscal austerity and focus on return on investment for the U.S. taxpayer, the strategic investments in NSF's FY 2014 portfolio sustain national economic growth, create new high technology jobs, support the transition to a clean energy economy, and train and develop the nation's globally competitive science and engineering (S&E) workforce.
NSF's annual budget represents 21 percent of the total federal budget for basic research conducted at U.S. colleges and universities, and this share increases to 58 percent when medical research supported by the National Institutes of Health is excluded. In many fields, NSF is the primary source of federal academic support.
NSF's comprehensive and flexible support of meritorious projects with broad societal impacts enables the foundation to identify and foster both fundamental and transformative discoveries within and among fields of inquiry. NSF has the latitude to support emerging fields, high-risk ideas, interdisciplinary collaborations and research that pushes--and even transforms--the very frontiers of knowledge. In these ways, NSF empowers discoveries that inspire the American public--and the world.
To view related information about the budget request, please use the links below.
 Budget, Finance & Award Mgmt (BFA)
 Budget Division
 FY 2014 Budget Request (summary brochure)
 Office of Legislative & Public Affairs (OLPA)
 Press Release: NSF Fiscal Year 2014 Budget Request Sustains Momentum for Fundamental Research in Science, Technology and Innovation
 Remarks by Dr. Cora B. Marrett, NSF Acting Director
 Webcast
 Acting Director's FY 2014 Budget Request Presentation Slides
 NSF Fact Sheet
For more information about file formats used on the NSF site, please see www.nsf.gov/help/plugins.jsp.