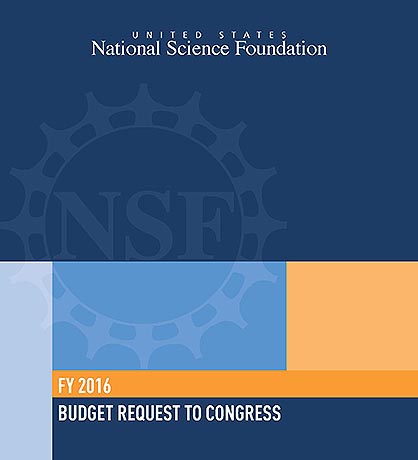 This FY 2016 Budget Request for the National Science Foundation (NSF) continues NSF's longstanding commitment to making investments in learning and discovery that will grow our economy, sustain our competitive advantage, and enable America to remain the world leader in innovation. It embraces the challenge of ensuring that scientific discovery and technological breakthroughs remain engines for expanding the frontiers of human knowledge and responding to the challenges of the 21st century.
NSF's FY 2016 Budget Request is $7.724 billion, an increase of $379.34 million (5.2 percent) over the FY 2015 Estimate. This reflects a strong commitment from the Administration to support science and engineering broadly, as well as the people that keep our Nation's scientific enterprise at the forefront of knowledge and discovery.
To view related information about the budget request, please use the links below.
 Budget, Finance & Award Mgmt (BFA)
 Budget Division
 FY 2016 Budget Request (Summary Brochure)
 Office of Legislative & Public Affairs (OLPA)
 News Release
 NSF FY 2016 Budget Request Fact Sheet
 Remarks by Dr. France Córdova, NSF Director
 Director's FY 2016 Budget Request Presentation Slides
 Archive webcast
 NSF Fact Sheet
 Brochure, Unlocking the Secrets of Science (PDF, 11.7MB)
For more information about file formats used on the NSF site, please see https:/www.nsf.gov/help/plugins.jsp.