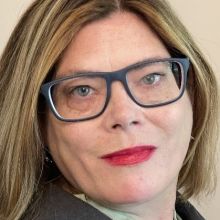 Credit: National Science Foundation
Dr. Sharon Homer-Drummond
AAAS Science & Technology Policy Fellow
Division of Equity for Excellence in STEM
Directorate for STEM Education
Class of 2023 – 2024
---
Dr. Sharon Homer-Drummond completed her BS in Animal Sciences at the University of Illinois, and her MS at the University of Miami's Rosenstiel School in Marine Biology and Marine Affairs and Policy with research interests in animal reproductive endocrinology and physiology, assisted reproductive technology, and natural resource economics. She graduated from Florida Atlantic University (FAU) with a Ph.D. in Integrative Biology, focusing on endocrine disruption in wild dolphin populations, environmental toxicology and anthropogenic change affecting reproductive success. She is currently an affiliate faculty member at FAU, serving as a committee member for a Ph.D. student.
Over the last decade she has devoted herself to teaching freshman biological science majors at a technical college, most of whom enter STEM education through the Bridge-to-Clemson program. Homer-Drummond has engaged in undergraduate STEM education research, centered on equity, justice, inclusion and access at all levels of STEM-ed. She passionately believes that open-access, active learning focused on a One Health perspective, and integrated learning across disciplines are powerful means of making STEM more accessible.
Dr. Homer-Drummond serves on the boards of several non-profits, including STEMpowering Young Women, a regional non-profit that grants scholarships, and seeks to develop an interest in STEM fields in young women throughout Upstate South Carolina. She regularly publishes blogs and open-access education resources, focused on STEM equity, with the Accelerating Systemic Change Network and BioQUEST. Her efforts in just and equitable STEM education led to her election as a 2022 AAAS Fellow for education.