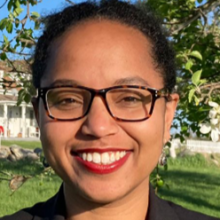 Credit: National Science Foundation
Dr. Meryleen Mena
AAAS Science and Technology Policy Fellow
Division of Computer and Network Systems
Directorate for Computer and Information Science and Engineering Sciences
Class of 2023-2024
---
Dr. Meryleen Mena earned her PhD in anthropology, and a graduate certificate in Women and Gender Studies from the University of Colorado at Boulder. She is a proud graduate of Barnard College, where she was exposed to the transformative power of civic engagement and learned that to be a scholar activist is not only possible, but critical to address social inequalities. Throughout Mena's academic career, she has focused on community-based activism led by and/or centering on the needs of marginalized populations. She has conducted qualitative research that attends to the civic engagement of diverse populations: from white feminist activists in Harlem, New York City (undergraduate), Afro-Venezuelans barrios in Venezuela (masters'),  African American and Native American activists that were part of the Denver chapter of the "Occupy Wall Street" (doctoral), prisoners' rights activists in São Paulo, Brazil (doctoral), youth justice advocates in New York City (post-doctoral), to Black birth workers in Lisbon, Portugal (post-doctoral/presently). Mena's intersecting research interests range from income inequality, food and environmental justice, equitable solutions for the Black reproductive health crisis in the Diaspora, reproductive rights, access to quality healthcare, quality of life for Black, Afro-Latinx, Indigenous, and other marginalized people in the US, and rights of the detained. Mena was a Mellon/American Council of Learned Societies Postdoctoral Public Fellow (2019-2021). She also taught for the City University of New York (2020-2021) and Bates College (2021-2022) in Maine. She speaks Dominican Spanish and Brazilian Portuguese and is learning French. 
When Mena is not doing research, she is homing her skills in public communication as co-editor of the Association for Black Anthropologists' section of Anthropology News—an award-winning open-source online magazine of the American Anthropological Association (AAA). She was recently selected to participate in the "Write to Change the World" workshops organized by the Op-Ed Project and sponsored by AAA.  Alongside fellow AAAS STPF Fellow, José Hurtado, she is excited to co-executive produce stories from the AAAS STPF community for the Sci on the Fly Podcast in 2023-2024. 
To honor her late paternal grandfather, she prefers to be called Mena. In her free time, she enjoys spending time in nature, community gardens, and farmers' markets with her loved ones.