Image: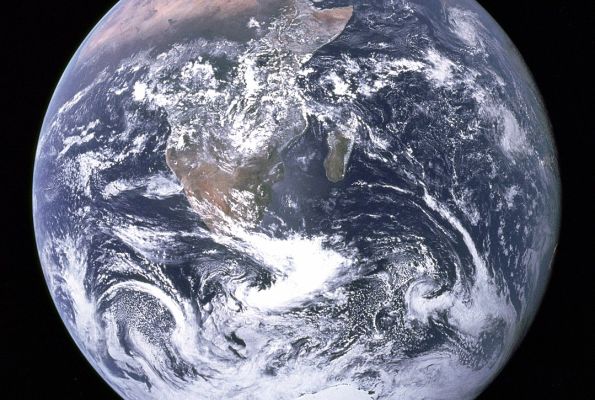 10 NSF projects that help us understand our planet as we celebrate Earth Day's 50th
The year 2020 will most likely be remembered for the year of social distancing, but a result of this has been a renewed appreciation for the great outdoors. This year also marks Earth Day's 50th anniversary, having been established to increase appreciation and awareness for our planet's natural resources.
This year marks another milestone -- NSF's 70th year of existence. In honor of these special occasions, we present 10 ways NSF has funded fundamental science to help better understand our planet.
1. The past predicts the future. To improve future weather forecasting, it is crucial to understand long-term interactions between climate and hurricanes. Ancient hurricane records from blue holes -- large marine caverns or sinkholes that preserve coarse-grained hurricane deposits -- provide excellent records of past hurricane activity. Researchers assembled a 1,500-year history of hurricanes in the Bahamas from sediment cores from three blue holes on South Andros Island, representing the longest high-resolution record of storm activity in the Caribbean. They compared this new record to others in the Gulf of Mexico and New England and found that patterns of activity closely matched those in the Gulf of Mexico. But when intense hurricanes were hitting the Bahamas, New England showed little to no storm activity. These changes in hurricane strikes are likely linked to larger changes in climate. Researchers hypothesized that shifts in the Intertropical Convergence Zone -- the region in the tropics where trade winds from the northern and southern hemispheres converge -- and volcanic activity are responsible for changes in both hurricane formation and hurricane paths.
2. High-tech harvests. Agriculture continues to advance, and NSF-funded scientists and engineers like those at the University of Nebraska-Lincoln are key. Smarter, more efficient farming has the potential to increase crop yields, while also minimizing impacts to the soil and local water resources, which can include issues like runoff. The UNL researchers developed a wireless network of underground sensors to give farmers real-time data on soil moisture, soil composition and other conditions. The sensors automate and enhance decision-making around irrigation by indicating to farmers precisely when and how much to irrigate fields. The research team founded Wildsense LLC to develop the product and secured a licensing agreement with NUtech Ventures, which commercializes UNL research.
3. Decision-making data. In 2019, NSF's National Ecological Observation Network completed construction of 81 sites nationwide for a steady state of identical data collection about air, land, waterways, microbes and wildlife that will paint a scientific picture of changes to ecosystems over the next 30 years. This massive undertaking will provide important information to scientists, but also educators and policymakers, informing land and water management and conservation efforts.
4. Simulating damaging winds. Natural disasters increasingly devastate islands, coastal towns and major metropolitan areas. Often, findings from NSF-funded research at a disaster site inform everything from the construction of more resilient buildings to more accurate warnings. Research results from the NSF-funded Wall of Wind facility at Florida International University, whose collection of 6-foot-tall fans simulate Category 5 hurricanes, caused city planners to alter the 2010 Florida building code to decrease the likelihood of damage to roofs and rooftop equipment during hurricanes. For tornados, researchers at the University of Oklahoma's Advanced Radar Research Center developed a radar simulator to help forecasters and meteorologists spot tornado debris on radar. Flying debris are a major threat to people when tornadoes strike, yet until this breakthrough, identifying it on current weather radars was almost impossible.
5. Identifying the ozone hole above Antarctica. In 1985, British scientists noted a loss of ozone over the South Pole, furthering earlier predictions that man-made chlorofluorocarbons were destroying the stratospheric ozone. In response, in 1986, NSF delivered ozone sensors, along with balloons and helium, to researchers at McMurdo and Amundsen-Scott South Pole stations to measure the loss of ozone. Collaborating with NASA, NOAA and the British Antarctic Survey, the scientists' work contributed to the Montreal Protocol, the first treaty to address the Earth's environment, which phased out CFC production in industrialized countries.
6. Local students addressing local pollution. Municipalities spend millions annually reducing the effects of stormwater runoff. An NSF-funded group at the University of Maine is helping decrease these costs. The Stormwater Management Research Team program brings high school and college students and diverse communities together to train in water sampling and connects their learning to classroom math and science courses. Those underrepresented in STEM fields are strongly encouraged to participate. Students monitor runoff in their communities alongside local water and engineering professionals. Since 2014, over 75% of participating students self-identify as either female or racial minority, and 41% of those eligible are enrolled in a STEM degree program. With additional NSF funding, the team in Maine formed a collaborative with eight other states aimed at underrepresented minorities in grades K through 12.
7. Understanding the impacts of acid rain. In 1980, NSF established its first of now 28 Long-Term Ecological Research sites, recognizing the need to appropriately assess long-term and large-scale ecological phenomenon. As early as the 1960s, NSF was funding research that identified acid rain and its effects at the Hubbard Brook Experimental Forest in New Hampshire. In 1987, NSF established an LTER site at Hubbard Brook that not only led to a clearer understanding of long-term impacts, but also to important changes in the 1990 amendments of the Clean Air Act. Another site, the Kellogg Biological Station's LTER, established in 1988, has studied the ecology of agricultural practices. The results inform current choices on when to use high- or low-intensity practices and promise increased long-term productivity of both food and fuel crops.
8. Maximizing water resources. The NSF-funded Decision Center for a Desert City at Arizona State University developed WaterSim, a visualization tool used by water utility managers in Phoenix and other desert cities in the Colorado River Basin to inform water management decisions. WaterSim takes data -- population growth, climate, water supply and demand -- compiled by different stakeholders and rolls them into one model to show how different variables interact. Users change the variables and run different scenarios to better understand how factors such as drought or population growth will affect the system. Today, water managers, policymakers, educators and others use this tool to visualize complex data and estimate water supply and demand for cities like Phoenix.
9. Preserving natural history digitally. Each of the millions of specimens preserved in museums are like tiny time capsules of ecological data about our planet. Historically, biologists and paleontologists who needed to study scientific specimens would have to physically travel to museums all over the world to do so. Now, an NSF-funded massive digitization program led by Florida State University and the University of Florida has made available to anyone, online images and data about hundreds of thousands of specimens. The free Integrated Digitized Biocollections program, also known as iDigBio, unlocks millions of datapoints about these collections to help scientists better understand the past, present and future biodiversity of our planet.
10. Understanding the worlds beyond ours. As the federal steward of ground-based astronomy, NSF has invested in some of the most innovative observatories. Just this year, its Daniel K. Inouye Solar Telescope, provided the clearest images of our sun's surface. This 4-meter solar telescope that will be fully operation later this year,  is the largest, most powerful solar telescope and will work closely with space-based NASA and European Space Agency missions to better understand our nearest star's impact here on Earth.